CD Review
Complete String Quartets
Volume 1
Quartet for Strings #15 in G Major, D. 887/Op. 161
Quartet for Strings in D minor/F Major, D. 2c (D. 998) (fragment)
Trio for Strings #1 in B Flat Major, D. 471
Leipzig String Quartet
Dabringhaus & Grimm MDG3070601-2

Volume 2
Quartet for Strings #1 in G minor/B Flat Major, D. 18
Quartet for Strings #13 "Rosamunde" in A minor, D. 804/Op. 29 #1
Overture in B Flat Major for String Quartet, D. 601 (fragment)
Leipzig String Quartet
Dabringhaus & Grimm MDG3070602-2

Volume 3
Quintet for Strings in C Major, Op. 163/D 956 *
Overture for String Quartet in C minor, D. 8a
Quartet for Strings in C Major, D. 3 (fragment)
* Michael Sanderling, cello
Leipzig String Quartet
Dabringhaus & Grimm MDG3070603-2

Volume 4
Quartet for Strings #14 "Death and the Maiden" in D minor, D. 810
Minuet for String Quartet in D Major, D. 86 *
5 Minuets for String Quartet, D. 89 *
5 German Dances & Coda for String Quartet, D. 90 *
* Christian Ockert, double bass
Leipzig String Quartet
Dabringhaus & Grimm MDG3070604-2

Volume 5
Quartet for Strings #6 in D Major, D. 74
Quartet for Strings #10 in E Flat Major, D. 87/Op. 125 #1
Quartet for Strings in C minor, D. 103 (fragment)
Leipzig String Quartet
Dabringhaus & Grimm MDG3070605-2

Volume 6
Quartet for Strings #6 in B Flat Major, D. 36
Quartet for Strings #8 in B Flat Major, D. 112/Op. 168
Leipzig String Quartet
Dabringhaus & Grimm MDG3070606-2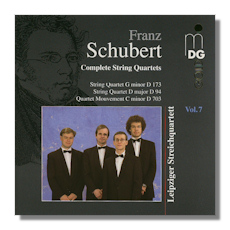 Volume 7
Quartet for Strings #7 in D Major, D. 94
Quartet for Strings #9 in G minor, D. 173
Quartet for Strings #12 "Quartettsatz" in C minor, D. 703/Op. posth
Leipzig String Quartet
Dabringhaus & Grimm MDG3070607-2

Volume 8
Quartet for Strings #4 in C Major, D. 46
Quartet for Strings #5 in B Flat Major, D. 68
Komische Ländler for 2 Violins in D Major, D. 354
Quartet for Strings #5 in B Flat Major, D. 68: Allegro maestoso
Leipzig String Quartet
Dabringhaus & Grimm MDG3070608-2

Volume 9
Quartet for Strings #11 in E Major, D. 353/Op. 125 #2
Quartet for Strings #2 in C Major, D. 32
Andante for String Quartet in C Major, D. 87a (fragment)
Overture for Strings in C minor, D. 8 *
* Hartmut Rohde, viola
Leipzig String Quartet
Dabringhaus & Grimm MDG3070609-2
Also available as a boxed set MD&G3070600-2:
Amazon - UK - Germany - France - JPC
This 9-CD set is an authoritative, expressive and excellently-played body of interpretations of the Schubert string quartet repertoire. It can safely be considered the leading complete cycle currently available and has very many merits. The Kodálys have a cycle on Naxos, as does the Melos Quartet on Deutsche Grammophon. Both are more than merely satisfactory in technique and depth of interpretation. But the breadth and insight which the Leipzig String Quartet and additional viola Hartmut Rohde and cello Michael Sanderling bring to one of the warmest, profoundest and most widely enjoyed areas of the chamber music repertoire in particular, and music from the Classical period in general, make these nine CDs from MD&G likely to remain all round favorites for collectors with many different criteria and reasons for choosing a cycle.
Cycles, of course, have their disadvantages: can any one (set of) interpreter(s) maintain consistently high standards across – in this case – 27 individual works? If they can, do the players concerned avoid homogeneity of approach? If they do, how well are their interpretations able to respect the intentions and achievements of the composer? In this case, it's an awareness on the Leipzigs' part of the way Schubert developed as a writer for strings that provides a positive answer to each of these questions. Certainly some of the early works have less depth to them than the later ones. But by not following a chronological progression from CD 1 to CD 9 and instead distributing early and later compositions evenly across most of the CDs, we get a fresh insight into how Schubert's vision of the medium changed.
The Leipziger Streichquartett (Leipzig String Quartet) was founded in 1988. Not long afterwards (in 1991) it began a dedicated series of concerts in the Gewandhaus called "Pro Quatuor". This allowed the quartet the luxury of presenting an extended cycle lasting several years of the major quartet repertoire by composers from the first and second Viennese schools. On the one hand this meant that the quartet's players could promote some of the lesser known modern works from the last century; on the other that they could explore music from the Classical period under slightly less pressure than might normally be the case in a concert tour. Such an enterprise, as well as their extensive touring and recording schedule (regular visits to all five continents; 70 recordings), have enhanced the distance and depth from and in their understanding of the music they play. That is evident in this Schubert cycle. The Leipzig String Quartet must now be regarded as one of the world's leading ensembles of its kind. It's able to bring to the music it's playing at any one time a profound awareness of almost all that repertoire which has shaped it and against which it is best set in order to reveal the most musical substance.
The essence of the Leipzigs' approach begins in the way they refuse to overplay, over-dramatize or over-emphasize any one aspect of the music: Schubert's beautiful melodies, mellow harmonies and gorgeous textures are all… not quite taken for granted; but they are offered to us as almost as a matter of course. Nothing perfunctory or superficial in the playing, though. But the need for rhetoric or spectacle is not felt in the slightest by the musicians. This places their style right where it belongs – at the apex between the Classical and the Romantic. The impact of the wistfulness of Schubert's slow movements, for example, is enhanced by a certain rigor. This discipline is most definitely not a mechanical style. Still less mechanistic. For example, the tempi throughout the performances are uniformly appropriate and winning. Never are the fast passages taken at a showy or self-conscious speed; nor the slow ones dragged out. At the same time, there is real variety and sensitivity in the choice of tempi to the ways Schubert intended each movement, each phrase indeed, to develop. When taken in tandem with the reflective, though never indulgent, way in which the Leipzigs build their performances, the degree of thoughtfulness which they bring to them clearly pays off.
What's equally pleasing on this set is the inclusion of some of the "lesser" works… the fragments like D 103, D 2c and even D 87a as well as the Ländler for two violins D 354 and Five Minuets and Five German Dances D 89. There is more to having these in the same cycle as the grander, more substantial, works merely for the sake of comprehensiveness. In that they are less well-known, they will surprise; in that they contain at times very successful musical ideas, they will delight.
It's hard to pick out any one passage from almost half a day's listening to illustrate this cycle's strengths. The Leipzigs' approach has clearly been to treat Schubert's string quartets as a whole. To allow what they know about their totality to inform how any one quartet – any one movement indeed – should sound. The players magically distribute the weight of the music across all their performances. Again, their tempi cannot be described as on the slow side. Rather as spacious, considered and determined (no compromise to pressure: in time the wonders of Schubert's thought are worth waiting for). One could almost say, "dignified"; but not luxurious or indulgent. Just what's needed to allow the music to breathe and offer up its every nuance. But momentum never lacks. Our attention never falters. Nothing drags. As a result we do feel we're present at a somewhat heroic or almost titanic unveiling of this great music. At the same time, the Leipzigs' humanity and refusal to leave the present mean that it's still music, with notes; not an abstraction. Given the ethereal and at times heavenly nature of Schubert's writing, second only to Beethoven in the period, this is a most appropriate strategy and works excellently.
It's important to emphasize that the Leipzigs' is neither a wholly Classical nor a wholly Romantic approach. Their starting point is that the music was written in – and belongs to – a moment when the characteristics of both held sway. Schubert was drawing from both traditions: attention to movement structure, formal contrasts and accepted ways of achieving tonal richness play their part with an at times almost wayward melodic inventiveness, departure from sonata form and almost impressionistic – certainly very personal – belief in the power of music to express feeling. By careful attention to detail as much as thanks to the huge breadth and depth of experience outlined above, the Leipziger Streichquartett (Andreas Seidel & Tilman Büning, violins; Ivo Bauer, viola; Matthias Moosdorf, cello) has achieved a remarkable amalgam in this respect.
That aspect of the set goes a long way towards making this one to which you would want to return over time both for "reference" and for "glowing" performances. For sure, a dazzling or "warm" account has its place. But a considered one which draws its greatest impact from the music itself is likely to be more satisfying in the long run. And these players' admirable blend between the lyrical and serviceable will provide that satisfaction. Lyricism is a key word too. The strings of the Leipzigs are open, airy and unhurried. While they don't "make a meal" out of each note or bar, the music does both flow and find its own level. In their hands, it seems to expand and contract according to the internal logic with which Schubert conceived the music. This – rather than any virtuosic or self-conscious bravura playing – is what gives the phrasing and momentum its contrast and coherence.
Another attribute that can be applied to the playing of the Leipzigs is sobriety. Alongside their unhurried and perceptive feeling for what Schubert "meant" by his string writing, is their sense of duty to wider sound world which it inhabits. This implies consistency, a certain humility and at the same time confidence in order to place the individual works in context. This combination in turn leads to performances with real personality and individuality. And those do distinguish this cycle.
The acoustic (the Fürstliche Reitbahn Festspielhaus in Bad Arolsen) is a little dry; certainly not unresponsive. But not at all roomy. It's nevertheless easy on the ear and enhances the listener's concentration on the unfolding music. This is a conscious aim of MD&G as an "audiophile" label. The goal is to reproduce the original sound as faithfully as possible. This is not the same as trying to place you in the recording location; rather, to provide you with the fewest barriers to what must remain an artificial experience – because recorded. That's easier with the closeness of chamber than with some forms of music. And it has worked. The booklets that come with each CD are informative and insightful.
Given the availability of the Schubert string quartets on record, if you settle on a cycle like this, you will surely want it to be repeatedly illuminating. You would want the interpretations to be compelling, technically accomplished and perceptive enough that you would return to them, if not exclusively, indeed if not always necessarily as a first choice; but as a reference. In part to meet these criteria, the performances must reach, explore and expose the essence of the music. Because pitched at the point where Classical and Romantic meet, this cycle is likely to satisfy on all those criteria. What's more, if you were hearing the music for the first time, you'd be likely to get as good a start in getting to know them as with any other recording currently available. Highly recommended as the first stop for those seeking a complete Schubert string quartet cycle.
Copyright © 2010, Mark Sealey.