DVD Review
Priscilla & Barton McLean
Symphony of Seasons
Jewels of January
The Eye of Spring
July Dance
Autumn Requiem *
Priscilla McLean
* Barton McLean
MLC Publications DVD
ISBN-10: 0-9824753-0-6
ISBN-13: 978-0-9824753-0-0 53:01

The McLeans Mix Three
Collaborations 2000-2008
MILLing in the ENNIUM
Jambori Rimba
Natural Energy (with dress rehearsal)
Priscilla McLean
Barton McLean
MLC Publications DVD
ISBN-10: 0-9824753-2-2
ISBN-13: 978-0-9824753-2-4 84:02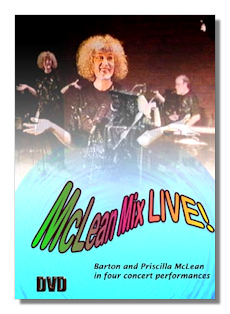 McLean Mix Live!
In the Beginning
Wilderness
Happy Days *
Magic at Xanadu *
Priscilla McLean
* Barton McLean
MLC Publications DVD
ISBN-10: 0-9824753-1-4
ISBN-13: 978-0-9824753-1-7 60:14
Barton and Priscilla McLean's electroacoustic music and videos are like homemade jams. There's no multimillion dollar music lab nestled in the basement of an urban conservatory, no chest-pounding publicity, and no beard-stroking dialogue about the theoretical underpinnings and sociopolitical significance of their work. In and around their home in Petersburg, New York, Barton and Priscilla quietly innovate, as if they were developing a new recipe for fudge brownies. They have been working together since the mid 1970s. Via CDs and DVDs and in person, they bring their talents and multimedia performances not just to those with similar interests and expertise, but also to audiences who aren't typically exposed to electroacoustic music. In workshops, they even give such audiences the opportunity to interact and create with them – although "work" such as this is more like guided play.
The McLeans create sound in a number of ways. Sometimes they play traditional instruments in real time. Priscilla also has a fine soprano voice, which she can use in surprising ways. They make their own instruments too – pizza pans, sawmill blades, and a soprano recorder fitted with a clarinet mouthpiece (a "clariflute") all figure in their works. All of these real time sounds can be modified in performance with a number of processing techniques. A sampling synthesizer allows the McLeans to bring an almost endless library of other sounds – sometimes further processed, sometimes not – into their performances. Computers and specially designed software further widen and enhance their palette. Their use of technology doesn't dispel the impression that Barton and Priscilla are a couple of big kids, however. There's a delightful sense of renegade innovation attached to everything that they do – a feeling that everything that the lofty academics can do, they can do better at half the cost while having twice as much fun doing it.
The last time I reviewed their work on Classical Net, I suggested that it was time for the McLeans to consider doing a DVD, since so much of their work is visual as well as musical. Here are three of them. These DVDs are self-produced and definitely not slick, but viewing them helps one to appreciate exactly what goes into their work. My only complaints about them is that they are configured so as to allow one to play only one work at a time, and that in some works (for example, Barton's Magic at Xanadu), post-performance video effects have been added, and I find the effects somewhat distracting.
Priscilla's multimedia Symphony of Seasons takes the viewer on a four-part journey that begins with January's renewal (a creek's rushing waters brushing aside the ice that enfolds it) and ends with the finality of late autumn. The first three parts rely on an ASR-10 sampling synthesizer, with samples taken from wildly diverse sources. These include traditional instruments, such as violin, clarinet, Yamaha piano, xylophone, flexatone, ocarina, soprano recorder, harp, Caribbean drums, and accordion, and non-traditional sources, such as wind chimes, ice cubes, glacial rocks, a xylophone of logs and croquet posts, sound effects from a microphone cord, the sound of neighborhood children, stones, a metal pizza pan, and a metal baking sheet. These are mixed with live recorded sounds, including bowed piano strings, bowed chime, the sound of a creek, and a Korg Wavestation digital synthesizer. Punctuated by hard, icy chimes, Jewels of January buzzes with bee-like activity, as if to hint at the massive potential energy stored beneath the snow and behind the ice formations. In The Eye of Spring, we seem to hear the voices of the flowers themselves. A virtual ensemble has been created from Priscilla's singing voice, and the moans and stuttered whispers seem to be telling us that flowers have secret lives, and that these lives are much more intense than we might have suspected. The percussion-driven July Dance galumphs along with a tribal beat, and is both playful and threatening, as if the teddy bears' picnic at times has been overrun with real bears. Even the trees are shown to be dancing snakily.
The collaborative Autumn Requiem was recorded live, and includes performances by both Priscilla (voice, violin, turkey caller, balloons, harmonicas, wooden block and scraper, soprano recorder) and Barton (voice, synthesizers, clariflute, soprano recorder, bird caller, flexatone, bowed and struck amplified bicycle wheel). The three previous works are text-less, but Autumn Requiem contains excerpts from Thoreau's journals, the Latin Mass for the Dead, and a sung snippet from Joseph Cosma's chestnut Autumn Leaves! The mood is dour, gloomy, and even apocalyptic
The second DVD is a collection of the McLeans's concert collaborations with video. MILLing in the ENNIUM blends Barton's original music and musical collage with Priscilla's video collage in a tribute to 2000 years of art, music, and dance. Just for starters, modified Gregorian chants and Tibetan monks rub elbows with Mahler's "Resurrection" Symphony (which the closing credits amusingly misidentify as being by Bizet!), and Stravinsky's Rite of Spring. (Luciano Berio also collided the latter two works in his Sinfonia, albeit with a different purpose and a different effect.) Ives's The Unanswered Question serves as a musical frame. Simultaneously, we see modified video of a koto player, dancers from the Alvin Ailey company, scholars from the Westminster Boys Choir, and so on. The net effect is not unlike what one might get from watching a PBS documentary on civilization while under the influence of hallucinogens.
Jambori Rimba (Jungle Jamboree) was the result of the McLeans's visit to Malaysia in 1996. There, they recorded natural sounds in a rainforest where the Iban tribe has lived for centuries, and other sounds as well, and later blended them with their own music, pre-recorded and live, to create an "artistic symbiosis." Here, the music is combined with the work of Malaysian video artist Hasnul Jamal Saidon. The combination of music and images creates a magical effect – pastoral but not sentimentalized. The McLeans's live material include Priscilla playing gongs made from sawmill blades and contributing her soprano voice at its most ethereal, while Barton plays a clariflute and a soprano recorder, and bows the spokes on an amplified bicycle wheel.
Natural Energy is a celebration of dance – not just as created by humans, but also as seen in fire, water, and in the blowing of scarves in the wind. Both Barton and Priscilla perform on a variety of instruments in real time, against a background of prepared material, mostly ostinati. The video work is mostly Priscilla's, with contributions from Barton. There are some particularly interesting video effects to be seen here – notably Barton's manipulation of aboriginal dancers from Taiwan. In both the music and the video, one is once again struck by the McLeans's ingenuity. Most of their raw materials are humble, even naïve (although I don't meant that in a pejorative sense), and yet by the time they have manipulated them, combined them, and recombined them, the results are impressive. It's as if they make the world's finest grape jam from grapes they grew in their own backyard! A dress rehearsal of Natural Energy also is included. This gives us an opportunity to see how the work is put together.
The live DVD – not that one is aware of an audience! – probably is the best one to recommend to newcomers. It includes three performances from New York City's Engine 27 venue, recorded in 2000, and one (Magic at Xanadu) from Michigan, recorded in 2008. This DVD captures the breadth of the McLeans's moods. In the Beginning features Priscilla's extended vocal techniques – a vocabulary coming partly from Cathy Berberian and partly from Mother Nature's nether regions – against a synthesized backdrop, and performed with a video comprised of altered ocean wave footage, and Priscilla's real-time head. Elemental, strange, and even harsh, various creation myths are given voice in this piece, which is one of the McLeans's most uncompromising. Wilderness, also composed by and centrally featuring Priscilla, is another nature-oriented piece. Carl Sandburg's text, half spoken and half sung, consists of a series of declarations – "I have a wolf inside of me" – and so on. Wilderness descends neither to cuteness nor to simplistic environmentalism, but explores animalistic facets of human nature, and humanity's relationship to its environment, with fascinating ambiguity. It relies on Priscilla's acting skills as much as on her singing. Barton provides the sonic substrate – a bed of modified shrieks, bellows, and grunts, mostly sampled from actual animals.
On its surface, Barton's Happy Days seems much lighter. This is described as a "theater piece," with Priscilla in the role of a clown. She "plays" three brass music-boxes (including one whose tune is Happy Days Are Here Again), and both she and Barton play party favors and create a whirring child-like atmosphere. All this clowning, though, seems to have something darker lurking behind it, and when Priscilla, like the music boxes, literally runs down and is wound up again by Barton, we wonder if all the sometimes frantic activity in Happy Days might be only a front hiding the stresses of modern life. Magic at Xanadu (M.A.X.) is a solo piece inspired by Coleridge's famous poem, and by the sensuous and ungraspable delights it depicts. The work relies, as several of the McLeans's more recent works do, on Barton's own "MAX/MSP" software, which allows him to initiate and change melodic, harmonic, and rhythmic loops (mostly pre-recorded) in real time. He also plays live on a keyboard during the performance. As the program notes (on the DVD, not printed) state, "the live performance is very virtuosic, as McLean must modify up to 14 musical ideas all playing at once."
These DVDs are available directly from the McLeans. Complete information on all works presented and ordering information is available at members.cisbec.net/mclmix/mlcdvd.html. Email orders and inquiries can be sent electronically to mclmix@cisbec.net.
Copyright © 2009, Raymond Tuttle