CD Review
Along The Silk Road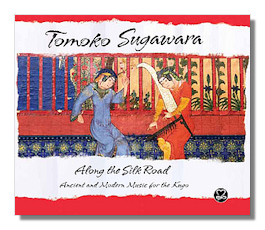 Ancient and Modern Music for the Kugo
Kikuko Masumoto: Ancient Phrase
Stephen Dydo:
The Waves of Kokonor
Wang Zhaojun
Quth al-Din-al-Shirazi (1236-1311): Qawl
Robert Lombardo:
Haikugo I, II, III
Shakugo I, II, III
Amir Mahyar Tafreshipour: A Night in Shiraz
Cantiga de Santa Maria #249
Cantiga de Santa Maria #213
Tomoko Sugawara, kugo
Robert Dick, alto flute
Ozan Aksoy, bendir & darabukka (drums)
Historical notes by Professor Bo Lawergren
Motéma Music MTM31 46:21 2009
The Kugo is a nearly 4000-year-old angular harp without vertical support which was last current 300 years ago. One instrument has been reconstructed from an image on a Chinese reliquary box from the 6th or 7th century, probably from Xinjiang, now in Tokyo National Museum. There is also a fragment of an old kugo in Nara. The new instrument has 23 gut strings and is 104 cm high. For this recording it was mostly tuned to the white note scale on the piano but for some pieces there are some sharps and flats as well as some quarter tones. The sound of the instrument is good and clear but without the plushness of the modern concert harp. Angular harps date from 1900 BC in Mesopotamia and were last seen in 1700 CE in Istanbul. This makes the angular harp the longest lived instrument ever. From Mespoptamia these harps reached Egypt, Greece and Rome. Buddhists brought them to China, Korea and Japan between 500 CE and 700 CE. In west Asia angular harps, called chang, were incorporated in epics between 1300 and 1600 and lavishly illustrated. They became associated with Islam. In Spain there were Christian songs set to tunes of Islamic origin.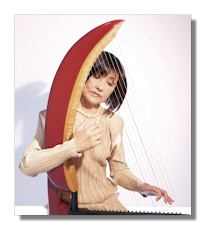 Tomoko Sugawara, born in Tokyo, played the Irish harp at 12 and the grand harp at 16. She graduated from Tokyo University. She began playing the kugo in 1994 and in 2007 was involved with lute players and Professor Bo Lawergren in designing the instrument on this release. She has played in many international venues and her career was furthered by a Fellowship and a grant. This is her third CD. Robert Dick is a flute soloist, composer, teacher, inventor and author of books about the flute. Ozan Aksoy is an ethnomusicologist, originally from Turkey, living in New York City.
The selection of music presented here begins with an ancient phrase for solo kugo, still played on a Japanese wagon (zither) in Shinto ceremonies. Kikuko Masimoto recently (2007) adapted it for the kugo. It is very simple tune but interest picks up with some arpeggios, and a midway change of pace.
Following this there is a tune, probably a folk song tune from Xinjiang, dating from the Chinese Tang dynasty (618-906 CE). The title is the Turkic name of China's largest lake. The poet Li Po is said to have danced to this tune when tipsy. It soon appeared in Japanese manuscripts and it is also still played in Japan, though at a very much slower tempo than was originally believed to be the case. In 1981 a version appeared as "a ninth century score for five-stringed lute," the title of an article by Rembrandt Wolpert, in Musica Asiatica, and based on a manuscript in Kyoto. Stephen Dydo has added ornament, variation, and counter melodies, as well as expanding the note range to the extent of the kugo's. Stephen Dydo is also responsible for elaborating a tune from musical material in the article by Wolpert just mentioned, as Wang Zhaojun (the name of one of the Four Beauties of ancient China).
Qawl uses quarter tones on the harp as well as percussion. The soloists both improvise. The original is Persian, from a vocal part with persussion. Other instruments were probably used also.
Robert Lombardo wrote the three brief parts of Haikugo for Ms. Sugawara. He shifts pitch centers to give a sense of harmonic movement within each piece and uses harmonics in the final piece. The writing is lyrical and sometimes resonant. Lombardo's Shakugo, for kugo and alto flute is another modern work, longer than the previous. I find it perhaps tje most appealing work on this disc. The flute writing is in a Japanese style with some strange unearthly effects.
A Night in Shiraz [a city in Iran] for Solo Chang has two sections, one melancholy, the other dance-like. It was commissioned in 2008.
The two works by King Alfonso X (1221-1284) are both very appealing, and show some Moorish influences. Both include drumming, especially striking in the second piece, which is quite rhythmic as well as melodic. The song lyrics are not heard in either and Ms. Sugawara adds improvisations.
As the kind of detail I give indicates, this disc is of considerable historic and ethnomusical interest. It can also be enjoyed simply as music. Recommended.
Copyright © 2010, R. James Tobin