CD Review
Mercury Living Presence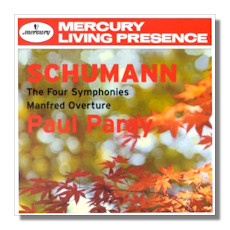 Symphony #1 "Spring" in B Flat Major, Op. 38 (1841)
Symphony #2 in C Major, Op. 61 (1841)
Symphony #3 "Rhenish" in E Flat Major, Op. 97 (1850)
Symphony #4 in D minor, Op. 120 (1853)
Overture "Manfred" in E Flat minor, Op. 115 (1849)
Detroit Symphony Orchestra/Paul Paray
Mercury Living Presence 462955-2 ADD partly monaural 2CDs 65:13, 67:12

Symphony #7 in A Major, Op. 92 (1812)
Overture "Leonore" #3 in C Major, Op. 72a (1806)
Overture "Egmont", Op. 84 (1810)
Overture "Consecration Of The House", Op. 124 (1823)
London Symphony Orchestra/Antál Doráti
Mercury Living Presence 462958-2 ADD 73:19

Baroque Masterpieces for the Harpsichord
Music by Picchi, Frescobaldi, Telemann, C.P.E. Bach, Scarlatti, and Fischer
Rafael Puyana, harpsichord
Mercury Living Presence 462959-2 ADD 73:58

Frederick Fennell Conducts
Gustav Holst: Suites #1 and 2
Folk Song Suite
Toccata Marziale
Peter Mennin: Canzona
Vincent Persichetti: Psalm
H. Owen Reed: La Fiesta Mexicana
Eastman Wind Ensemble/Frederick Fennell
Mercury Living Presence 462960-2 ADD monaural 71:11
These are the four most recent Mercury Living Presence reissues to come from Universal Classics (the new name for PolyGram Classics).
Paray began his Schumann cycle in December 1954 with the Fourth Symphony and concluded it in March 1958 with the "Spring" Symphony and the Manfred Overture. (Only the earliest recording is monaural; the rest are in stereo.) This is a nice set to try, if you find Szell and Haitink, for example, to be too Germanic. Paray's insistent tempos and brass-heavy (but rather nasal sounding) readings are anything but traditional. Slow movements never get a chance to become sentimental, and fast movements are sinewy and full of athleticism.
One of my favorite moments in the symphonic literature is the "breathing space" Schumann wrote into the finale of his "Spring" Symphony; the horns blow an elegiac fanfare, and the flute graciously ushers in the recapitulation (of sorts! – Schumann's construction in this movement is quite free). Most conductors allow the recapitulation to just slide in, following the footsteps of the flute solo, but Paray makes a clean break and begins again. This sort of surprise happens again and again in this set. Once the initial shock passes, my reaction usually is, "Well, that's interesting… I've never heard it played that way before." I'm not always convinced, but I am intrigued. Paray's Schumann is for one of those evenings when you can hardly stay awake. My only real concern is the sound, which is too bass-y for my tastes. (Schumann with fat thighs?) The monaural recording is balanced much more attractively.
If Antál Doráti was such a Haydn specialist (remember he recorded all of the symphonies and most of the operas), then why hasn't his Beethoven attained the same classic status among critics and record collectors? The question becomes particularly urgent after hearing the second disc of this grouping. In short, Doráti's Beethoven yields to few. It packs a masculine punch, and Doráti makes the composer's frank personality comes right to the fore. And yet, Doráti has the sensitivity needed to make even this familiar music sound fresh and surprising. In the Seventh Symphony, the usually heavy third movement laughs with elfin delight, and the trio, which can seem stodgy, has an infectious swing. The finale, while never in danger of seeming anything less than symphonic, is played with a clarity that suggests chamber music. Try the furious climaxes for strings at 1:47 and 3:40 in this movement, where Beethoven's deliciously raw dissonances rarely have been so weird. The overtures share the symphony's virtues: brio, control, and transparent textures. Again, the recording is a little tubby, but this is not as much of an issue here. The symphony was recorded in 1963; the overtures come from 1960 and 1962.
Rafael Puyana was a pupil of Wanda Landowska. While there's no denying the teacher's central role in making the harpsichord a viable instrument in the 20th century, the pupil did his share too: he carted his Pleyel instrument around North America in a Buick station wagon! One hardly can imagine Landowska going that far. Furthermore, I have trouble imagining her being quite as experimental with registrations. For example, in one of C.P.E. Bach's variations on Les Folies d'Espagne, Puyana uses (I think) a paper mute; placed across the strings, it gives the notes a buzzy, metallic sound. I wouldn't say that most of the selections on Puyana's CD are "masterpieces," but there's a great deal of attractive and unusual music here. Eight selections by Giovanni Picchi, who flourished in the early years of the 1600s, anchor the disc, and three Scarlatti sonatas give it brilliance near the end. (More of Puyana's Scarlatti would be welcome.) Perhaps most unexpected is Telemann's Bourrée alla Polacca (some genre mixing there!), which is a pompous delight. The recordings were made in Watford Town Hall, and in Fine Recording in New York City. No complaints at all about the sound, which is warm and balanced.
The sixth of Mercury's all-monaural releases on CD proves that audiophilia didn't begin with the invention of stereophonic sound; no one should despise a pre-stereo recording on principle any more than they should despise an AAD or ADD compact disc. Fennell has re-recorded most (if not all) of these works for Telarc and other labels, and with different bands. In the mid-1950s, though, there wasn't much that the students at the Eastman School of Music in Rochester, New York weren't capable of. Their recordings – the present one included – are lessons in the promotion, performance, and presentation of symphonic band music to the average American classical music lover. The Holst and Vaughan Williams works are fairly familiar. (Here at Mary Washington College, our graduation recessional is the March from Holst's Second Suite, a happy choice, even if it makes little sense.) The American works are exciting. Mennin's Canzona, not a sweetly lyrical work as its title suggests, is display piece for woodwinds and brass, separately and together. The Persichetti Psalm begins as a sober procession and ends as a triumphant proclamation. H. Owen Reed's La Fiesta Mexicana also has sacred overtones, as suggested by the tolling of mission bells – brilliantly captured by Mercury's engineers – at the beginning. Mostly, though, its theme is secular celebration, the Fennell and his Eastman crew make the most of the Latin flavors.
Copyright © 1999, Raymond Tuttle