Related Links
Recommended Links

Site News
CD Review
The Mercury Living Presence Recordings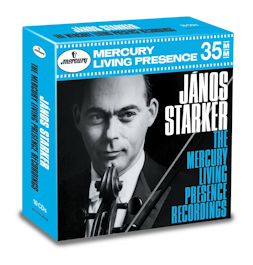 Suite for Solo Cello #1 in G Major, BWV 1007
Suite for Solo Cello #2 in D minor, BWV 1008
Suite for Solo Cello #3 in C Major, BWV 1009
Suite for Solo Cello #4 in E Flat Major, BWV 1010
Suite for Solo Cello #5 in C minor, BWV 1011
Suite for Solo Cello #6 in D Major, BWV 1012 1
Sonata for Viola de gamba #1 in G Major, BWV 1027 1
Sonata for Viola de gamba #2 in D Major, BWV 1028 1
Sonata for Viola de gamba #3 in G minor, BWV 1029 1
Sonata for Cello & Piano #1 in E Minor, Op. 38 1
Sonata for Cello & Piano #2 in F Major, Op. 99 1
Sonata for Cello & Piano in G minor, Op. 65 1
Polonaise brillante, Op. 3 1
Sonata for Cello & Piano #2 in D Major, Op. 58 1
Variations concertantes, Op. 17 1
Bohuslav Martinű: Variations on a Theme of Rossini 1
Claude Debussy: Sonata for Cello #1 in D minor 1
Béla Bartók: Rhapsody for Cello & Piano #1, BB. 94 1
Leó Weiner: Hungarian Wedding Dance 1
Luigi Boccherini: Sonata for Cello & Piano #4 in A Major, G. 4 2
Antonio Vivaldi: Sonata for Cello & Continuo in E minor, RV. 40 2
Arcangelo Corelli: Sonata for Cello & Continuo in D minor, Op. 5, #7 2
Pietro Locatelli: Sonata for Cello & Continuo in D Major (arr. Piatti) 2
Giuseppe Valentini: Sonata for Cello & Continuo in E Major (arr. Piatti) 2
Max Bruch: Kol Nidrei for Cello & Orchestra, Op. 47 3
Antonín Dvořák: Cello Concerto in B minor, Op. 104 3
Piotr Ilyich Tchaikovsky: Variations on a Rococo Theme, Op. 33 3
Camille Saint-Saëns: Cello Concerto #1 in A minor, Op. 33 3
Robert Schumann: Cello Concerto in A minor, Op. 129 4
Édouard Lalo: Cello Concerto in D minor 4
János Starker, cello
1 Győrgy Sebők, piano
2 Stephen Swedish, piano
3 London Symphony/Antal Doráti Orchestra
4 London Symphony/Stanislaw Skrowaczewski Orchestra
Mercury Records 4786754 10CDs
Anyone who first experienced the cello through János Starker's honest and highly-communicative musicianship will want this set, but I recommended it for most everyone. Although the original jacket concept is a nice touch – especially with the back jackets also on display – it also strikes me as rather silly and a not-entirely wholesome way of getting consumers to pay for ten 40-minute discs. Still, there's no questioning the commitment of these artists to an appreciably wide range of repertoire, and the box remains reasonably priced. Now about to enter its third year on the market, I have no idea how long it will remain in print. So my suggestion is to acquire it as soon as possible.
Győrgy Sebők takes the lion's share of the project, in sensitively-played readings of various sonatas. Starker recorded much of this music for EMI as well, and to be frank there's little to choose between them. Mercury's sound is a little better, and that's the difference. Unknown – to me – pianist Stephen Swedish – takes the rest of the chamber works. Anachronistic as they may sound to modern ears, they remain compelling. No qualms concern the Bach, which Starker recorded at least three times. This is wonderful playing. Starker was a communicative and heartfelt artist, and that's exactly what you get in these elegant readings.
The rest of the box contains some classic concerto recordings. The works under Doráti are especially compelling, though the recorded sound is somewhat less so. Still, these remain close to top recommendations, particularly in the Schumann and Lalo, works that tend to be either loved or belittled. With some very interesting liner notes and a genuine feeling that Universal tried to present a superior product in every respect, this very beautiful set remains a fitting tribute to one of the great cellists of the last century.
Copyright © 2016, Brian Wigman