CD Review
A Beethoven Odyssey
Volume 1
Piano Sonata #1 in F minor, Op. 2 #1
Piano Sonata #3, Op. 2 #3
Piano Sonata #23 in F minor "Appassionata", Op. 57
James Brawn, piano
MSR Classics MS1465 72:34

Volume 2
Piano Sonata #8 in C minor "Pathétique", Op. 13
Piano Sonata #14 in C sharp minor "Moonlight", Op. 27 #2
Piano Sonata #19 in G minor, Op. 49 #1
Piano Sonata #20 in G Major, Op. 49 #2
Piano Sonata #21 in C major "Waldstein", Op. 53
James Brawn, piano
MSR Classics MS1466 76:35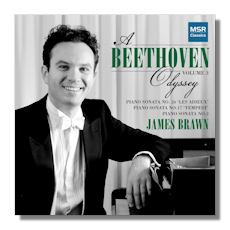 Volume 3
Piano Sonata #2 in A major, Op. 2 #2
Piano Sonata #17 in D minor "Tempest", Op. 31 #2
Piano Sonata #26 in E flat major "Les Adieux", Op. 81a
James Brawn, piano
MSR Classics MS1467 70:48
Here are the first three volumes of English-born pianist James Brawn's complete cycle of the Beethoven piano sonatas. I am told that Volume 4 will be issued about the time this review appears, and I anxiously await that release as these initial entries signal that we are in the midst of a major musical undertaking. First, let me say I won't spend time on the question of whether we need yet another set of these thirty-two masterworks, because high artistry is always welcome even in heavily traversed repertory. And what we have here is high artistry indeed. Brawn plays Beethoven in a most imaginative way, often making you hear the music in a different manner. Even when he is fairly straightforward his interpretations still have personality and invention, mainly because he knows how to phrase the music with the utmost sensitivity and intelligence. His tempo selections are never extreme and nearly always come across as a perfect fit for his individual approach, and his wide ranging dynamics are deftly applied with consistency. But there's also that thing you can't always put your finger on here: Brawn's unerring sense for capturing the mood in the music, whether it be sadness, mischief, humor, tragedy, anxiety, or a mixture of these. He always seems on target.
Listen to how Brawn conveys the sense of mystery and foreboding at the outset of the Pathetique Sonata by injecting a hint more of hesitation in the theme, and then by heightening the sense of anxiety in the main Allegro section with a slightly brisk tempo, seemingly perfectly-judged dynamics and subtly accented chords. Brawn plays the second movement Adagio with a relatively lively tempo and points up a sense of tension in the middle section. I don't know if I've ever heard a better version of this movement: so many pianists make it sound slightly saccharine or even mawkish. Brawn gives it a measure of profundity and he plays the finale brilliantly as well. The first movement of the Moonlight Sonata is dark and ominous, as Brawn imparts a measure of weight and a faster tempo than is customary. The second movement is less chipper than in most interpretations, as there is a slower than usual tempo and an almost halting gait to the main theme. The finale races breathlessly along and the sense of anxiety heightens. This is one of the finest versions of the Moonlight I've encountered, at least in recent years.
The Waldstein is another success, as Brawn imparts a subtle sense of nervous drive and constant tension to the music in the first movement. Notice the often sudden but sensitively applied changes in dynamics and how Brawn also employs very slight accelerandos and rallentandos to temporarily ratchet up or reduce the building tension. His second movement has some grit and character and doesn't come across as dull in any way as it does in many other performances. The finale will strike some listeners as a bit controversial, as it is less triumphant and more philosophical or even conflicted. The sense of struggle from earlier in the work continues here, with the tempo somewhat held back in places in the main theme but with the second subject seeming more vigorous and potent. As the movement progresses though, the sense of triumph grows and the whole interpretation seems to fit together perfectly.
The Appassionata Sonata is one of those works that seem to inspire excellent performances. Brawn turns in a fine effort here, infusing the first movement with volatility and darkness, the music seething with tension and portending eruption or collapse at any moment. Brawn's ability to suddenly whip up a sense of extreme agitation or upheaval with a tempo acceleration or louder dynamics or both is almost uncanny. The second movement is mostly stately and triumphant here but also conflicted, while the finale is fraught with anxiety and struggle throughout, as Brawn races ahead always managing digital clarity even in liberally pedaled passages. This one of the darkest and most compelling accounts of the Appassionata Sonata you're likely to encounter. A masterful performance.
The first movement of the Tempest Sonata is agitated and driven in Brawn's performance, but also quite muscular. The tempestuousness is virtually unrelenting, for even the alternating moments of repose seem to prepare us uneasily for the turbulence ahead. Brawn deftly highlights the sense of restiveness in the second movement and the Allegretto finale is energetic but harried, light one moment then weighty the next. Brawn captures all the conflict, the nervous tics, the seeming elegance, and the breathless pursuit of elusive resolution. The album notes suggest the music's dark character could have been influenced by Beethoven's developing deafness. At any rate, this again is a great performance. Brawn finds as much color and ambivalence in the Les Adieux. His somber introduction nicely sets up the main allegro section that expresses mixed feelings about departure. The middle panel is appropriately forlorn here, and the finale brims with joy, but hearty and robust joy in this brilliant performance.
Even the early sonatas sound more consequential in Brawn's hands. Nos. 19 and 20 (despite their numbering, they preceded Sonata #1), come across as meatier, though Brawn does not overlook their youthful character and generally less serious nature. Brawn draws a substantial yield from the First Sonata as well, a work that can sound like Mozart in places: the first movement main theme sounds as if it is lifted from the opening movement of the Mozart Symphony #25. Brawn's brisk and breathless finale is quite exciting, capping off a totally convincing performance. The Second is just as successful, but the work comes across as overlong, especially in the first movement, as Beethoven asks not only for an exposition repeat but a repeat of the development and recapitulation. Brawn is faithful to Beethoven's wishes and makes an excellent case for the work, which was quite revolutionary for its time, though I won't get into the reasons why here. The Third Sonata, to me the finest of the three Op. 2 sonatas, brims with infectious joy and vitality in Brawn's hands. But he deftly points up the humor and mischief too, as well as the more serious and profound moments.
The sonics provided by MSR Classics are very clear and powerful and the Steinway piano used has a very excellent sound. Over the years I have reviewed numerous individual Beethoven sonata discs here as well as the complete survey by Daniel Barenboim on video (EuroArts Blu-ray 2066424) in 2013. In addition to Barenboim, many pianists come to mind in this repertory, like Brendel, Ashkenazy, Goode, Schnabel, and among recent entries, Igor Levit. Thus, it is difficult to select even two or three as preferences in such a broad field, but I can say that James Brawn thus far must be considered among the cream of the crop in this challenging repertory. Beethoven sonata mavens will certainly want to consider adding these discs to their collection – and keep a watchful eye on those that follow. Strongly recommended.
Copyright © 2015, Robert Cummings