CD Review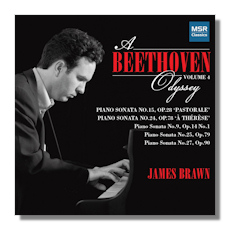 A Beethoven Odyssey, Volume 4
Piano Sonata #9 in E Major, Op. 14 #1
Piano Sonata #15 in D Major "Pastorale", Op. 28
Piano Sonata #24 in F Sharp Major "À Thérèse", Op. 78
Piano Sonata #25 in G Major, Op. 79
Piano Sonata #27 in E minor, Op. 90
James Brawn, piano
MSR Classics MS1468 72:24
Earlier this year I reviewed the first three volumes in James Brawn's projected cycle of the thirty-two Beethoven piano sonatas (MSR MS1465/7), finding them very convincing and giving them a strong recommendation. In this fourth volume Brawn chooses to focus on, as he puts it, Beethoven's "lyrical and life affirming" side, his "…lighter, more positive nature." Indeed, the music here is generally optimistic and, by Beethovenian standards, light. There are some serious moments of course, like the Andante second movement of the Sonata #15 ('Pastorale'), whose dark outer sections are contrasted by a joyful and even playful middle section. Thus, even the clouds in the sky usually are not dominant here.
As for the performances, they are quite fine once again. One thing you notice about Brawn's playing on this disc and throughout much of the series so far is his way of making you see the music in a somewhat different light. The first movement of Sonata #9 (1798-99) has a fresh and vital character in his lively tempo and subtle use of dynamics and accents, the music sounding very light and busy, but never pale or inconsequential. The finale effervesces with all sorts of subtlety in the phrasing and tempo manipulations: the main theme races ahead with dynamics deftly expanding and contracting, the pace slackening suddenly but briefly before returning to its breathless manner so delightfully. The first movement of #15 (1801) has a majestic yet sunny character in Brawn's hands, again with such well-judged dynamics and accents. The aforementioned second movement has a deliciously quaint character here, mainly because of the almost jaunty left hand accompaniment which, while initially sounding light and bouncy, actually darkens the mood. The middle section is playful here alright, but subtly humorous too in its somewhat gruff manner.
Beethoven's Sonata #24 (1809) is appropriately bright and spirited and once more performed with the utmost subtlety and good taste. Brawn gets as much substance out of the first movement as just about anybody and makes you almost feel the joy and high spirits of the second movement finale with fingers that are both elegant and full-blooded.
Brawn's Presto first movement of #25 (1809) is another delight here: Beethoven's colors and busy manner emerge with such spirit and energy that you wonder if Brawn can maintain the pace while injecting so much nuance and shading at such speed. But he does: notes whiz by, but in context and with meaning. The second movement Andante is beautifully played and the brief finale begins a little stiffly – or so you think – but Brawn shapes the music into a hearty and colorful whole that is a simple delight. The two-movement #27 (1814) features a somewhat ambivalent first movement: its heroic character seems in a struggle, but the mood never actually darkens, though it turns quite serious at times. Nothing escapes Brawn here as he captures the more serious moments, as well as the lighter and more pleasant moods in the finale.
Thus, Brawn gets high marks for volume 4 in this ongoing series on MSR Classics. While there is no shortage of excellent Beethoven sonata cycles on disc, this one must be welcomed enthusiastically because of Brawn's extraordinary artistry. In addition, the album notes are insightful and the sound reproduction is excellent. I made comparisons in my lengthy review of the first three volumes and I refer you to that article for specifics about them. But I'll summarize here by saying that at this juncture Brawn would appear to be competitive with the finest past sets of the Beethoven sonatas. Highly recommended.
Copyright © 2015, Robert Cummings