CD Review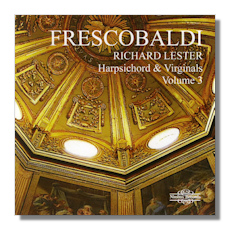 Harpsichord & Virginals, Volume 3
Toccata Seconda
Capriccio fatto sopra La Cucchu
Toccata Quarta
Balletto Primo Corrente del Balletto Passacagli
Aria detta Balletto
Balletto Seconda Corrente del Balletto
Toccata Undecima
Canzona Prima
Toccata Decima
Canzona Quinta
Capriccio di Durezze
Capriccio sopra l'aria di Ruggiero
Recercar Terzo
Capriccio Fra Jacopino sopra l'Aria du Ruggiero
Balletto Terzo - Corrente del Balletto Passacagli
Capriccio sopra La Bassa Fiamenga
Correntes 1-4
Aria detta la Frescobalda
Richard Lester, harpsichord
Nimbus NI5870
The previous two volumes (NI5850 and NI5861) in this series of Frescobaldi's keyboard works from specialist Richard Lester have been reviewed very favorably on Classical Net. Now here's Volume 3, actually entitled "Harpsichord & Virginals". It's of the same high quality and is recommended.
The two dozen works on this third CD are varied, striking and highly enjoyable. They come from three published volumes and are mostly in the toccata, capriccio and canzona forms. Lester manages to convey (largely through his phrasing, pauses, and control of tempi – listen to the varieties in the Toccata Undecima [tr.10], for instance) just how startling and innovative much of Frescobaldi's music must have sounded at the start of the seventeenth century. Lester's playing combines deftness (there are particular challenges with fingering; necessarily: each instrument is different) with exuberance… listen to the runs and excitement of the Aria detta Balletto [tr.7], for example. Or the stately progression of the Balletto Seconda Corrente del Balletto [tr.s 8,9]. Then, however extensively contemporary performers employed ornamentation, Lester is restrained and decorates to emphasize, anticipate or bring a phrase or theme to a conclusion. It's never gratuitous.
For all Lester's approach is one of authenticity, of drawing on contemporary sources for fingering, tuning and styles of playing, in the end his interpretations have the twin qualities of arousing sheer enjoyment in the listener and expressing every nuance which Frescobaldi intended. There are moments in his playing (the gravitas of the Toccata Decima[tr.12], for example), when the playing is so immediate, the emphasis of the phrasing so deliberate and the pace at which the melody develops so penetrating that it's as though we are somehow engaged in a veritable dialog with Frescobaldi. This presence is enhanced, of course, by the mechanics of the instrument(s) fully captured in this recording.
The musical sound of the instruments (meantone temperament is used) is clear, penetrating and rich without being veneered. The virginals, of course, are more delicate in sound, something of which Lester takes full advantage in apportioning them to the different pieces chosen in this recital. In the end, though, it's Lester's ability to elicit a broad palette of colors from the instruments and to drive the music's rich melodic power from behind, so to put it, that determines the success of this CD. Nothing is ever forced. Cascades, andante progresses and lingering, ruminative – almost speculative, as in the Recercar Terzo [tr.16], for instance – passages all emerge from noticeable silences, and are concluded with great calm: this is not trivial music, though it needs repeated listening to reveal all its strengths. Lester affords us just that… by never pushing.
Lester has created a supporting video to go with his series. It can be found on the The Frescobaldi Experience site. Well worth a look for some useful background: your "Frescobaldi Experience" might well include familiarity with the locales that have been used as well as the instruments to make these recordings… this one was made using no fewer than four contemporary (from between 1540 and c.1619) instruments from the Benton Fletcher collection of early keyboard instruments at Fenton House collection in Hampstead, North London. This accounts for the atmospheric acoustic, full of character yet neither too dry nor too reverberant. Indeed, the miking seems closer than was the case in volumes 1 and 2; that works well. Lester's liner notes are similarly informative; his passion for the music and the world of Frescobaldi is not only clearly communicated. It's catching. You learn, for instance, that Frescobaldi was apparently a much more accomplished musician than he was suavely literate speaker! If you own the first two CDs in the series, you will want this one right away. If you're just getting involved (this is a major project), then you should not wait. And, by the way, volume 4 with organ works is coming soon…
Copyright © 2011, Mark Sealey.