CD Review
Oliver Knussen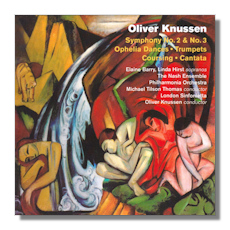 Symphonies
Symphony #2 1,5
Symphony #3 5
Trumpets for Soprano & 3 Clarinets 2
Cantata for Oboe & String Trio 3
Ophelia Dances, Book 1 4
Coursing for Chamber Orchestra 4
1 Elaine Barry, soprano
2 Linda Hirst, soprano
2 Michael Collins, Edward Pilinger & Ian Mitchell, clarinets
3 The Nash Ensemble
4 London Sinfonietta/Oliver Knussen
5 Philharmonia Orchestra/Michael Tilson Thomas
NMC D175
Oliver Knussen was born in Glasgow in 1952 but grew up near London, where his father was principal double bass in the LSO. It was with that orchestra that Oliver Knussen made his composing debut (in 1968, when still in his teens) with his First Symphony. A series of landmark works in the next decade or so established Knussen as a leading figure in contemporary British music. The present CD from specialist label NMC reissues half a dozen recordings from that time. This seems to serve two complementary purposes: to capture the vibrancy and excitement of the first flowering of post-war British new music; and to state unambiguously how universally valid this outburst was. Specifically to underline the width and breadth of the musical and cultural worth of Knussen's works as they must now be seen from the perspective of almost half a century. Knussen is still an active and innovative composer, teacher, festival organizer and conductor and deserves to be better known outside the United Kingdom.
Knussen himself conducts four of the five orchestral works (Michel Tilson Thomas the Philharmonia Orchestra in the Symphony #3) with the London Sinfonietta – then at the height of its powers– and growing. The equally exciting and innovative Nash Ensemble performed the Cantata. The recordings date from the early 1980s, are of high quality, exposing the highly nuanced and tense acoustic sound-world of Oliver Knussen well.
The works on this excellent CD should not be reduced to exhibiting a single characteristic of the composer, or of his times. Knussen himself identified an interest in the superimposition of musical layers which are both harmonically coherent one with the others yet independent and of independent origin and kind. Yet this was not his only salient characteristic. To put it another way, each of the very well-performed works on this CD amalgamates melodic line with blocks of sound in ways where duration and texture collide (in a controlled way) to produce music of real impact and purpose.
It's hardly too fanciful to note that the origins of both the Third Symphony and Ophelia Dances (Book 1) embody this juxtaposition of yearning and eccentric acts, and thus embody music as line and "interruption". Not that Knussen's music lacks flow and elegance. The brief Cantata, for all its concentration and distillation, is as graceful, rich and poised as it is pointed and tidy. Even Trumpets is ultimately as restrained as it is explosive. Similarly, Coursing is concerned with energy too – but also sinuousness in ways that Elliott Carter's music (to whom it was dedicated, for the latter's 70th birthday) combines differing musical centers – virtuosically realized unison melody and suavely managed soft "punctuation" by (other) instruments in such a way as to point out what they have in common.
In this sense, Knussen is concerned as much with cohesion, collaboration and synthesis of musical ideas and their work during performance of musicians as with anything more figurative or abstract. Indeed, it is music with an implied focus, music with sets of perspectives, and music which gently realizes apparently disparate and potentially competing musical elements that inform both the Second and Third Symphonies. Each is performed here with deep understanding and very real empathy at a time when the backlash against Knussen's work seemed to emanate from a misunderstanding of its import and importance and spawned expressions of vacant criticism. Listening to this music should banish those.
Bayan Northcott's introductions in the accompanying booklet provide useful background and clear evaluation of the place of this exciting and beautiful music. It contains the texts by Georg Trakl (in German and English) and Sylvia Plath which are used in Trumpets and the Second Symphony, where Elaine Barry's soprano should be particularly noted for its sensitivity and reach. If Knussen is new to you and/or you don't have these works (none is otherwise available: Knussen is poorly represented in the current catalog, given his stature and achievement), you should acquire this CD without a moment's hesitation. Much more than a historical document, it presents an appealing portrait of Knussen and his strangely taut yet expansive compositional priorities played as well as anyone can. Thoroughly recommended.
Copyright © 2012, Mark Sealey.