CD Review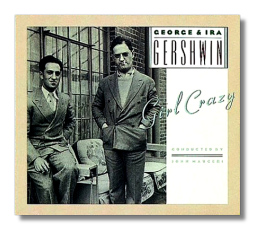 Girl Crazy
Lorna Luft
David Carroll
Judy Blazer
Frank Gorshin
Unnamed orchestra/John Mauceri
Nonesuch 9 79250-2
Summary for the Busy Executive: Stunning arrangements, good performance, despite casting weaknesses.
Girl Crazy (1930) represents a kind of throwback in Gershwin's development as a theater composer. Basically, it provides an excuse for a bunch of great songs: "Bidin' My Time" (with its sly musical allusions to "Tip-Toe through the Tulips" and "Singin' in the Rain"), "Embraceable You," "Sam and Delilah," "But Not for Me," "Boy! What Love Has Done to Me," and Gershwin's avowed favorite among his songs, "I Got Rhythm." Of the musicals, I probably like the songs for this best - both Gershwins at the top of their considerable form. However, Gershwin had been working toward a more integrated show, one based on the musical scene, rather than the song - a tendency in his work that goes back to at least Strike Up the Band (1927), continues through Of Thee I Sing (1931), Let 'Em Eat Cake, and Pardon My English, and culminates in Porgy and Bess. The "book" writer himself, Guy Bolton, had been a fixture of Gershwin's earlier musicals Lady Be Good! and Oh, Kay! and even of Jerome Kern's "Princess" shows. I'm not really disappointed in Gershwin - the songs are knockouts - but it does show, I think, that an artistic career - even a great one - seldom proceeds ever-forward toward some inevitable goal.
It lies almost within the definition of pop music that it be arranged. An "original score," in the sense that a classical performer understands it, is a concept alien to pOp. When we talk about a great Irving Berlin song, we're not talking about the same thing as a Mahler Lied, where every note of every part gets set by the composer. From various testimony, for example, we know that Berlin provided melody and lyrics to someone who played the piano better than he did (just about anybody) and could write down the notes and listened to the chords the pianist produced, approving or disapproving, occasionally suggesting new harmonies by actually singing the constituent notes of the chords he heard in his head. On the other hand, we know from manuscripts Ira bequeathed to the Library of Congress that George composed full piano accompaniments to most of the songs he wrote, although these accompaniments don't necessarily agree with the first sheet-music publication. Furthermore, George didn't think of these manuscripts as the Only True Text. He himself improvised new arrangements of the tunes and, in a Broadway production, expected the arrangers to come up with something of their own - subject, of course, to his approval. Even so, he thought of a Broadway show as the creature of a season. The songs would go on into the pop world, played and arranged by others for a number of years, before they were forgotten. He didn't count on their immortality. After all, most pop has a very short shelf life. If Gershwin thought of his own monument, he would have thought of his concert works, although his George Gershwin's Song Book - in which he set down piano arrangements of some of his tunes - was likely his attempt to keep his songs alive for posterity. He needn't have worried.
The revival of a show like Girl Crazy would have struck both brothers as eccentric. Indeed, when the revamped Girl Crazy opened on Broadway as Crazy for You to raves, Ira expressed amazement that people retained interest in "those old songs." So Tommy Krasker's attempt in this CD to restore the original production in comparison would likely have been viewed as downright bizarre. In many cases, original performance materials haven't survived. In the case of Girl Crazy, the score published by the Gershwin's own New World Music Company in 1954 (known as the Tams-Witmark score) was found unreliable. Then in an old New Jersey warehouse, somebody in 1982 opened what became known as the Secaucus Trunk, which contained original parts to several shows, and not just Gershwin's. Unfortunately, things didn't remain so simple. Parts didn't agree. Singers' lines rose far beyond the known range of the principals. From original programs, scholars determined that entire numbers were missing. Krasker and his team of Russell Warner, Larry Moore, and Keith Wiggs consulted contemporary recordings made by the principals and original copyists' piano scores for directions on how to proceed. Russell Warner - a fabulous arranger who also knows the history of Broadway orchestration - supplied new charts for the missing numbers. We probably have come as close as we can to the original production. The result is as bright as new paint.
I've not always liked Mauceri's work, but this strikes me as one of his best recordings. Some of the best studio musicians in New York comprise the orchestra, including Julius Baker on flute, Dick Hyman on piano, and Matthew Raimondi on violin. The orchestra both sparkles and dances. I should mention that the original orchestra was no slouch either. It consisted mainly of the Red Nichols band, including Benny Goodman, Gene Krupa, and Glenn Miller, the last credited by more than one source as writing the original arrangement of "I Got Rhythm." Bennett didn't feel himself suited to hot, jazzy numbers (and could have cared less). Nichols recommended Miller to Gershwin. It was singularly fortuitous. Both Gershwin and Miller shared the composition teacher Joseph Schillinger. It was also customary to include a musical novelty act in Twenties musicals: Cliff "Ukelele Ike"/"Jiminy Cricket" Edwards was a great favorite. In this show, the producers hired a male quartet known professionally as the Foursome, who at one point came up with a "comedy" instrumentation for a reprise of "Bidin' My Time" of jew's harp, harmonica, ocarina, and tin flute. Unfortunately, this hasn't survived. Russell Warner provides a lovely arrangement for ocarina, tin flute, harmonica, and bass - alone almost worth the price of the CD.
The cast, on the other hand, is maddeningly inconsistent. The members of the original included Ginger Rogers, the Yiddish dialect comedian Willie Howard (signed by the producers when the great Bert Lahr - their original choice - became unavailable for legal reasons), and the mighty (at the time, very sexy) Ethel Merman in her Broadway debut. The producer Vinton Freedley discovered her singing at the Brooklyn Paramount theater and immediately signed her to the show. He knew exactly what he found. In the first act, Merman, as Frisco Kate Fothergill, sang not at all, leading the audience to regard hers as a speaking part. In the second act, wearing a skirt slit up the side and a loose, low-cut, satin-finish blouse, she came on stage trumpeting, "Delilah was a floozy; / She never gave a damn" - the bluesy opening to "Sam and Delilah. She stopped the show. This was closely followed by "I Got Rhythm," where she held a note for 16 bars as the pit band continued the jumping chorus and stopped the show again. According to several sources, including the surprisingly modest Ethel, "the audience went crazy." Her performance of her final number, the torchy "Boy! What Love Has Done to Me," tied the audience in knots again and had critics comparing her to Libby Holman singing "Moanin' Low." Not bad for an evening's work.
Lorna Luft takes on the Merman role and makes very little of it. I've thought of her as a belter, but she's surprisingly subdued and, in the fast numbers, falls slightly behind the beat. Maybe there really was only one Merman. I find Luft most genuinely moving, if a bit breathy, in "Boy! What Love Has Done to Me!" As Gieber Goldfarb, a New York cabby turned Arizona sheriff, Gorshin knows how to put a song over, but he avoids Willie Howard's Yiddish dialect, probably in deference to modern sensibilities. Still, the number "Goldfarb! That's I'm!" (a takeoff on George M. Cohan's "Harrigan! That's Me!") could have used a little. He doesn't sound like he comes from anywhere. I wondered why he was signed but was answered by the "comic reprise" of "But Not for Me." In the original production, Willie Howard had improvised a turn around celebrity impressions. Here, Gorshin does Jolson, Cantor, Durante, and Chevalier – probably the first time he's had a chance to bring those out in decades. David Carroll as the juvenile, Danny, and Judy Blazer, in the Ginger Rogers role of Molly, do best overall. Blazer's voice isn't particularly striking, but there's an affecting Judy-Garland quality to it. Carroll sings show music beautifully - a smooth line and a strong grasp of colloquially-sung American English, no mean feat.
In my opinion (of course), the entire series of Gershwin musicals restored by Tommy Krasker represent the best theater releases of recent years. However, Nonesuch has been deleting its share of the Krasker productions like crazy. I saw this at Border's by accident after the catalogue informed me of its unavailability. I snatched it up.
Copyright © 1998, Steve Schwartz