CD Review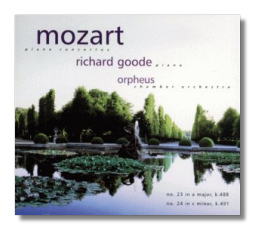 Piano Concertos
Piano Concerto #23 in A Major, K. 488
Piano Concerto #24 in C minor, K. 491
Richard Goode, piano
Orpheus Chamber Orchestra
Nonesuch 79489-2 DDD 56:14
This is the third disc of Mozart piano concertos that Goode and the Orpheus Chamber Orchestra have done. The earlier releases (couplings of #18 and 20, and #9 and 25) have sold well, and have received a strong welcome in the press. At this rate, however, it will take Goode and Orpheus about 14 years to record all of the concertos, if that is their intention. Well, never mind: these are good recordings, and at least the slow rate of release gives collectors something to look forward to.
These two concertos make an interesting couple. #23 is one of Mozart's most engaging works, with a bubbly finale that always raises the listener's spirits. #24 is stern, and it forecasts the achievements of Ludwig van Beethoven, who was a teenager in 1786, when both of these concertos were written.
If there are any disadvantages to being a conductor-less ensemble, they are not obvious on this recording. The Orpheus Chamber Orchestra plays with unanimity of attack and purpose. Although they are not an original instruments ensemble (did I hear someone say "fortunately"?), they are sympathetic to Mozartean style, and their relatively small size doesn't hurt. Their playing is full of small, illuminating touches – nothing earth-shattering occurs in the orchestra, but the members move the earth an inch at a time.
Goode, having proven himself to be an excellent interpreter of Beethoven, Schubert, and Brahms on disc, distinguishes himself in Mozart as well. He plays with masculine clarity (his Mozart never tiptoes) and with obvious affection for the composer's lyricism. As with his partners, he doesn't set out to rewrite the history books on Mozart interpretation. Instead, he obviously prefers to convince listeners with fine-tuning and nuance. You won't say "Aha," but you may well say "Ahhhhh…." All in all, this is affectionate playing, but it doesn't minimize the humor and drama in this music. In #23, Goode plays Mozart's cadenza, and in #24, he plays Paul Badura-Skoda's.
The recording was made in New York's Manhattan Center, and, like the performances, the excellence of the engineering is all-pervasive, and not just a chain of effects. Harris Goldsmith wrote the annotations, which are notably generous and informative.
Copyright © 2000, Raymond Tuttle