CD Review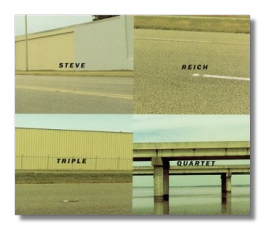 Triple Quartet
Triple Quartet
Electric Guitar Phase
Music for Large Ensemble
Tokyo/Vermont Counterpoint
Kronos Quartet
Dominic Frasca, guitar
Alarm Will Sound
Ossia/Alan Pierson
Mika Yoshida, MIDI marimba
Nonesuch 79546-2 DDD 54:09
The only work here that is truly new is the Triple Quartet. Written in 1999 for the Kronos Quartet, it can be played by three "live" string quartets, 36 members of an orchestral string section, or by a string quartet playing along with a pre-recorded tape. Both live and on CD, Kronos chooses to do the latter: it has recorded two of the string quartet parts ahead of time, and plays the third part live. In writing this work, Reich claims to have been influenced by Béla Bartók, Alfred Schnittke, and Michael Gordon; the influence of the first composer is particularly audible. The three connected movements follow a traditional fast-slow-fast pattern. The music's density is intriguing, its rhythmic energy is compelling, and its harmonic complexity and dissonance is unusual for Reich. Nevertheless, there's no mistaking this for the work of any other composer, and it is a far from negligible work.
Reich the recycler shows his face in the other three works. Electric Guitar Phase is a new version of Violin Phase, a work written in 1967. Overdubbing permits guitarist Dominic Frasca to play all four parts. This is an idea that Reich and other composers have tried before: what happens when several parts originally played in unison go out of phase because of changes in tempo or in the number of notes? Reich increases the inherent interest connected with the idea by fading parts in and out of the mix to create a terraced effect. The incisive attack of the electric guitars creates a percussive quality not possible on the violin. Electric Guitar Phase, hardly your usual heavy metal workout, is obsessive and interesting, but not too innovative. Frasca's stamina is admirable.
Music for Large Ensemble was written in 1977. This is conductor Alan Pierson's revised version, which adds more strings and alters other voices. The work swarms with healthy life; to my ears, this is happy music – the sound of free will – even though it sounds hardly less "processy" than Electric Guitar Phase. It is less dense than the Triple Quartet, probably because of the more varied scoring. Pierson's ensembles, Alarm Will Sound and Ossia, play it with technical comfort and interpretive exuberance. (Pierson himself plays the vibraphone.)
An effective marimba version of Vermont Counterpoint (1981) has been elusive because of the long, muddying decay inherent in that instrument's notes. Computer technology has come to the rescue with the "MIDI marimba," which blends that instrument's sound with a custom-shortened decay. The sound is brittle yet sensuous. In its original version for flutes and piccolos, the work is one of Reich's most beguiling. Played on MIDI marimbas, it loses some of its innocence but not its attractiveness.
Four unconnected works go together well on this one CD. Even though its bits and pieces construction is obvious, there's nothing here on this disc that makes Reich's music any less compelling.
Copyright © 2002, Ray Tuttle