CD Review
The Hours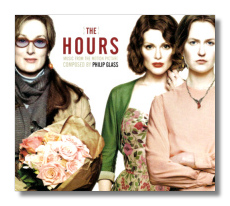 Music from the Motion Picture by Philip Glass
Michael Riesman, piano
Lyric Quartet
Nick Ingman, conductor
Nonesuch 79693-2 DDD 57:39
Surprisingly, several of the negative comments I've read about Stephen Daldry's film The Hours single Philip Glass's score out for special vilification. The New Yorker calls it "intrusive" and "chiming." This says more about the current state of film-reviewing (dismal) than it does about Glass's score.
Glass has scored films since nearly the beginning of his career. Kundun, from a few years back, was probably his most mainstream film project until The Hours, an adaptation of the novel by Michael Cunningham. The Hours interweaves the stories of three women: author Virginia Woolf, an editor, and a young mother. In his preface to this CD, Cunningham recollects how he became hooked on Glass's Einstein on the Beach in college, and how Glass's music has remained a part of him ever since. "Glass, like Woolf," he writes, "is more interested in that which continues than he is in that which begins, climaxes, and ends."
Perhaps The Hours isn't Glass's best film score, but I think it will be my favorite. Sustained and elegiac, it has a fragile beauty that nevertheless persists far away from the film's images. Strings play a dominant role, and so does the piano, here played by long-time Glass collaborator Michael Riesman. If much of this score sounds like older Glass, this is not just an accident. The track titled "I'm Going to Make a Cake" is based on a scene from Glass's opera Satyagraha; it is interesting to hear how the same thematic material can make a very different impression in a different context. "Tearing Herself Away" looks two decades back to the Glassworks album, and "The Escape" is based on a track from Glass's solo piano CD. It would be inappropriate to criticize Glass for laziness; even Bach recycled, and it seems that Glass felt – correctly, it turns out – that there were things left unsaid when he used these materials the first time around. At any rate, the melancholy radiance of his score to The Hours is self-justifying.
Nonesuch doesn't make this clear, but this CD appears not to be a soundtrack recording – at least, not entirely, as a different pianist (David Arch) is heard in the film. "Tearing Herself Away" is not heard in the film either. This doesn't matter, but it is unexplained and somewhat odd.
The tense, pallid faces of Meryl Streep, Nicole Kidman, and Julianne Moore have been used to create one of the most striking film posters of recent times. Glass's music, with its ability to make the familiar strange, fits the publicity and the tone of the film itself. Don't listen to the film critics: this is masterful music. Filmmakers are seldom this lucky.
Copyright © 2007, Raymond Tuttle