SACD Review
Works for Two Guitars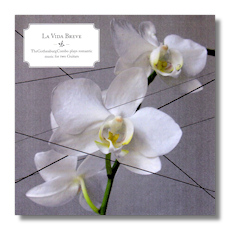 La Vida Breve
Sevilla
Cordoba
Manuel de Falla: Danza Espanola #1 from "La Vida Breve"
Johannes Brahms: Intermezzo, Op. 118 #2
Clair de Lune
Golliwog's Cake Waltz
Arabesque #1
Johann Sebastian Bach: Three Canons (from A Musical Offering)
Two Swedish Folksongs:
You are so beautiful in my eyes
Song from Orsa
The Gothenburg Combo
ComboCD002 56:24 DDD

Soundscapes
Nagoya Guitars
Phase
TheGothenburgCombo: Everything's Alright Forever
Peter Hansen: 12-String Noon (Duane Allman in Memoriam)
Andreas Eklöf: Friday
Fredric Bergström: The Combo Song
The Gothenburg Combo
Northwest Classics NWC611094 SACD 60:30
TheGothenburgCombo (no spaces, please!) is Swedish guitarists David Hansson and Thomas Hansy. The Combo was formed in 2000, has given concerts on four continents, and in 2004, won the "13ème Concours International de Guitare en Duo" in France. In addition to the two CDs reviewed here, they have recorded a program, called "Hausmusik," of 19th-century works played on period guitars.
"La Vida Breve," their most recent release, is an eclectic program of "romantic music for two guitars," although one could dispute to what extent Bach's music is "romantic," let alone "Romantic." Hansson and Hansy are responsible for all of the arrangements, with the exception of the works by de Falla (Emilio Pujol) and Brahms (Ansgar Krause), and the two Swedish folksongs (Sven Berger).
The two guitarists take a subjective approach to the material. Their goal seems to have been to create a variety of moods, and a relaxing listening experience, more than to remain faithful to the composers or their work. Indeed, few pianists would play the Debussy pieces this slowly, and the Brahms Intermezzo is almost unrecognizable in this guise. In the Carulli, Hansson and Hansy take a piece that is "a bit long and somewhat repetitious" (I don't doubt it, actually), and cut it down drastically.
In other words, this is a CD that purists might not appreciate. Nevertheless, I thought that the material, while it was changed, made the transition to two guitars successfully. Even when the playing is at its most dreamy, the musicianship of TheGothenburgCombo remains alert and involving. The Spanish-inflected selections have sharp rhythmic outlines, and the Debussy is finely colored. The Brahms Intermezzo is really touching, and I wish that the composer could have heard it this way! (Did Brahms write any guitar music?) The program was recorded in a Swedish church, and the venue contributes to the attractive sonic ambience without becoming a distraction. This is a program that rewards repeated and attentive listening, although it also is perfect for late nights when one is too tired to listen critically!
"Soundscapes," the predecessor to "La Vida Breve," adds another dimension to one's understanding of TheGothenburgCombo. This SACD is built around two major compositions by Steve Reich: the disciplined "process music" of Phase, and the more freely constructed Nagoya Guitars, David Tanenbaum's arrangement of Nagoya Marimbas. (Tanenbaum collaborated with Reich to create this arrangement in 1997.) In the former work, composed in 1967, the two instruments play the same material, but because one is playing it slightly faster, the two instruments go out of phase, creating what might be thought of as intriguing interference patterns. This occurs over the course of almost 22 minutes. Again, Phase is played in an arrangement by Hansson and Hansy, and some changes have been made to Reich's original. Nagoya Guitars is similarly relentless in its progress, but is more spontaneous and joyful. It sounds fine played by two guitars! In Pulse, Hansson and Hansy impress with the precision of their playing. (When this piece goes wrong, it can go really wrong.) Nagoya Guitars is ebullient, yet always controlled.
The extended opening work by TheGothenburgCombo is episodic, but the episodes clearly relate to the other material on this CD, and Hansson and Hansy must have had a good time creating these fresh sounds. This might be "ambient music," but it has both structure and substance. Peter Hansen's work is a hypnotic elegy to the American blues/rock guitarist who died in 1971. The use of capos darkens the sound of both guitars. Eklöf's Friday, inspired by a song by The Cure, is atmospheric, and it has an unusual pulse, derived not from the precise division of beats and musical phrases, but from the performers' internal mental "reading" of The Cure's lyrics. (I know this sounds a little airy-fairy, but the proof is in the pudding.) The CD closes with a short work – or rather, a portion of one – dedicated to the Combo. Like Friday, it moves forward driven not by numbers but by breaths.
"Soundscapes" was recorded in a different Swedish church, with the microphones placed a little more closely to the players than they are on "La Vida Breve." Consequently, the recording is a bit less atmospheric, but it remains very satisfying.
Both of these CDs are excellent, and should appeal to a wide range of listeners. More information about TheGothenburgCombo can be obtained from www.gbgcombo.com.
Copyright © 2008 by Raymond Tuttle