DVD Review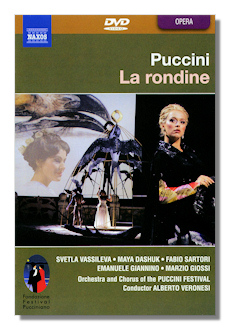 La Rondine
Svetla Vassileva - Magda
Maya Dashuk - Lisette
Fabio Sartori - Ruggero
Emanuele Giannino - Prunier
Marzio Giossi - Rambaldo
Fernando Ciuffo - Périchaud
Giorgio Berrugi - Gobin
Andrea Patucelli - Crébillon
Polina Volfson - Yvette
Alessandra Meozzi - Bianca
Annunziata Vestri - Suzy
Katia De Sarlo - Fleury
Chang Chiung Wen - Mariette
Elisabetta Lombardo - Roro
Alessando Manghesi - Un maggiordomo
Puccini Festival Chorus & Orchestra/Alberto Veronesi
Stage Director - Lorenzo Amato
Recorded live from the 53rd Puccini Festival, Torre del Lago, Italy, on 8, 10 and 16 August 2007
Naxos DVD 2.110266 Dolby Digital DTS Widescreen Anamorphic
La Rondine has never come close to achieving the success of Puccini's big three (Tosca, Bohème and Butterfly), nor has it even rivaled Turandot, Manon Lescaut or La Fanciulla del West. Puccini himself wasn't satisfied with La Rondine and periodically made revisions of it after its tepid reception in 1917, leaving a third version of the work incomplete at his death in 1924. This production, from the August, 2007 Puccini Festival in Torre del Lago, Italy, is a compilation of versions, using a 2006 edition that features some orchestrations by Lorenzo Ferrero of the third version. What is used here are Acts I and II of the original version, and Act III of the third (incomplete) version. The major difference in the story line is that Ruggero leaves Magda, not vice versa, as in the original.
Those familiar with the opera will want to obtain this performance for its quite different take on this Puccini work. Other opera lovers will find it an enjoyable experience even if they're not enchanted by second-drawer Puccini. I say "second drawer" because this opera, fine though it is, is not up to the level of the composer's greatest operas. That said, whatever version is used, it contains some fine music, like the Act II quartet Bevo al tuo fresco sorriso, which for sheer melodic beauty can rival any Puccini number.
But this production's worth does not rest solely on the uniqueness of its edition or on a couple of hit numbers. Indeed – Svetla Vassileva's portrayal of Magda is simply stunning, both vocally and dramatically. This Bulgarian soprano is a major star, no doubt. Russian-born Maya Dashuk also turns in fine work as Lisette. She is another singer headed toward the top, if she isn't already there. What is it about female Eastern European singers these days? In the last decade or so they have moved into prominence, maybe dominance, on the world's operatic stages. It isn't just Anna Netrebko, Angela Gheorghiu, Elīna Garanča and one or two others. There are many, but I don't want to make this digression too long by comprising a list. Suffice it to say that the days when the Russians and Eastern Europeans were represented by Vishnevskaya, Benackova and a handful of others are over. And the vocal riches we are gaining in this harvest, as evidenced here by Vassileva and Dashuk, are immense.
Back to this production… Fabio Sartori as Ruggero is also excellent: his voice has great tonal appeal and his acting is fully convincing. The rest of the cast is strong too, and the conductor Alberto Veronesi leads the proceedings with judicious tempos and a fine sense for dramatic flow. The sound reproduction is a bit dry and recessed, but the camera work is excellent. Some may find certain scenes here lacking proper lighting: at times parts of the stage are much better lit than others. The costuming features full-skirted dresses and gowns for the women that are quite attractive and the male singers are attired appropriately as well.
The one caveat I have is the intrusive appearance of a male and female ballet dancer in certain scenes: in the gorgeously-performed Bevo al tuo fresco sorriso, for instance, the two dancers are seen much of the time on the right side the stage or superimposed over the singers on the screen. In either case, they are, quite frankly, a distraction. Why are they present? Apart from this relatively minor flaw, this production was mostly a success. Recommended.
Copyright © 2009, Robert Cummings