DVD Review
Live in Concert in St. Petersburg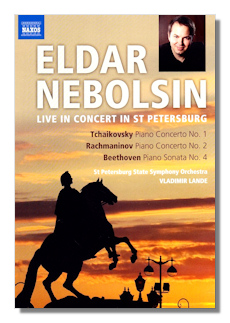 Piano Concerto #1 in B Flat minor, Op. 23
Piano Concerto #2 in C minor, Op. 18
Piano Sonata #4 in E Flat Major, Op. 7
Eldar Nebolsin, piano
St. Petersburg State Symphony Orchestra/Vladimir Lande
Recorded Live in the Capella Concert Hall, St. Petersburg, Russia - June 8, 2011 (Tchaikovsky); June 12, 2011 (Beethoven); June 17, 2011 (Rachmaninov)
Naxos DVD 2.110284 69m (concertos) 29m (bonus) LPCM Stereo Widescreen
Uzbek-born pianist Eldar Nebolsin (b. 1974) has gained considerable notice in the last decade or so and notched up several acclaimed recordings during that time, including discs of the two Chopin and two Liszt concertos for Naxos. Earlier in his career Nebolsin won several important competitions, including the 1992 Paloma O'Shea International Piano Competition and the 2005 Sviatoslav Richter International Piano Competition. This new recording should only add to his reputation as one of the leading virtuosos of his generation.
As suggested above both concerto performances are quite fine, though I must say the Rachmaninov Second is outstanding, easily among the best I've encountered. I have well over a dozen recordings of this concerto in my collection, and I can think of only three in this class, those by Rubinstein, Glemser (Naxos 8.550810) and Lisitsa (Decca 4784890). Nebolsin plays with a big tone and his tempo choices are generally moderate, perhaps slightly on the brisk side, allowing him to impart a spirited or passionate sense to the music, depending on the mood. The second movement is paced perfectly to my ears: nothing drags or seems to lack momentum but instead suggests passion as the theme transforms and builds toward the outburst launching the cadenza. The outer movements are majestic and beautifully played, with the lyrical themes often exuding a feverish intensity.
The Tchaikovsky is well played too, though it struck me that Nebolsin is a little more straightforward and objective here. He plays well in all three movements, though in the second he is a little stiff in the middle section's playful music. He's also slightly out of sync with the orchestra in some of the work's final chords. That said, the entire finale is absolutely exciting and ends with such a feeling of triumph. Rarely does Nebolsin exhibit any eccentricities either, though at times he seems to divulge a tendency to emphasize notes in the upper register: try his arpeggios in the dramatic exchange of chords between piano and orchestra right before the first movement's final cadenza. Overall, this is a solid performance that might not quite match Cliburn or Argerich, but is generally better than most efforts on disc.
Vladimir Lande leads the St. Petersburg State Symphony Orchestra with a knowing hand in both works. The ensemble appears to consist, at least here, of about sixty-five players but they can produce a quite powerful sound and play with accuracy and feeling. In the Beethoven Sonata, which you access in the bonus section of the menu, Nebolsin gives a fine performance, quite muscular but featuring a wide dynamic range. Still, he favors bringing out the meatier side of this early but quite substantial sonata, and makes an excellent case for this approach. Again, his tempos are well chosen and his interpretive sense fine. Personally I'd like to hear more of his Beethoven. This performance was not given before a live audience, but it has the all the electricity of such a circumstance.
The camera work is very good, focusing on the pianist much of the time, as it should. The sound reproduction is a bit cavernous, probably because of the overly reverberant acoustics of the Capella Concert Hall in St. Petersburg. The piano is closely miked while the orchestra is pushed a bit into the background. Drums sound boomy, but again probably because of the acoustics of the small hall. If you're looking for a video of these two concertos, you won't be disappointed with these performances, especially with Nebolsin's account of the Rachmaninov Second. And you get a strong performance of the Beethoven sonata as a bonus. Strongly recommended.
Copyright © 2014, Robert Cummings