CD Review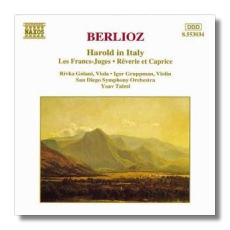 Orchestral Works
"Les Francs-Juges" Overture Op. 3 (1826)
"Harold in Italy" Symphony for Viola and Orchestra Op. 16 (1833)
"Rêverie and Caprice" Romance for Violin and Orchestra Op. 8 (1841)
Rivka Golani, viola
Igor Gruppman, violin
San Diego Symphony Orchestra/Yoav Talmi
Naxos 8.553034 - 63min
Talmi's Harold is slick and breezy. In the first movement both Bernstein (at 14:25 on an old Columbia LP with the New York Philharmonic) and Koussevitzky (12:57; Biddulph/Boston Symphony) may be faster by the clock, but it's Talmi (15:19) who seems rushed. Bernstein digs into the dark and brooding fugato at the outset and brings tremendous dignity and elegance to the body of the movement. Meanwhile, Koussevitzky magically conjures up the mysterious atmosphere of the introduction, builds tension skillfully, then splendidly depicts Harold's happiness and joy, never sounding the least bit hasty despite his quick pace.
Like Talmi, viola soloist Golani treats this music in a cool and objective manner. She has neither the lyrical intensity of Lubomir Mali (with František Jílek leading the Czech Philharmonic, newly reissued by Supraphon) nor the deep, burnished timbre of Bernstein's soloist, William Lincer. Where Golani whines, Lincer soars. Talmi and Golani are best in the finale. After Golani's riveting presentation of the "Memories of Scenes Past", Talmi springs to life, launching into a wild, demonic orgy that far outstrips the flaccid Jílek. Talmi's brigands may be more violent than Davis's, but Bernstein whips them into an even greater frenzy. Although Koussevitzky is considerably slower than the other conductors in the orgy, his version is the most emphatic, volatile, and explosive of the lot. Moreover, the astonishing roar of the Boston brass makes their San Diego cousins seem hopelessly timid by comparison.
Talmi also holds back the brass in the Francs-Juges Overture. He's tender and poetic enough in the quiet moments, but too tame in the big, fortissimo outbursts. For greater drama and weight, see Colin Davis (on Philips again). The Rêverie and Caprice, however, has never sounded more radiant than it does on this new disc. Gruppman and Talmi give us a highly theatrical, yet warmly heartfelt reading. The clarity and richness of DG's recording with the Orpheus Chamber Orchestra put this murky Naxos effort to shame, but the tense, nervous approach of Orpheus ensemble undermines the dreamy quality of the music.
Naxos' recording is distant and bass shy. The orchestra is awash in a sea of reverberation, and the solo viola has an unpleasant nasal twang. In Harold, both Bernstein's ancient Columbia LP and the Philips CD by Colin Davis have more body and presence. Even the early digital Supraphon with Jílek and Mali sounds more immediate and exciting. As usual, the Naxos issue *is* worthwhile for collectors on a tight budget. Just don't expect the considerable heights that Bernstein, Koussevitzky, and Davis reach in this repertory.
Copyright © 1997, Tom Godell