CD Review
Akio Yashiro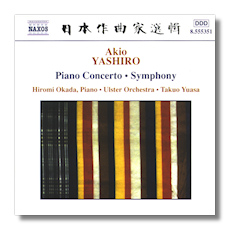 Hiromi Okada, piano
Ulster Orchestra/Takuo Yuasa
Naxos 8.555351 DDD 59:34
With the exception of Takemitsu, Japanese composers are infrequently programmed and recorded in the West. The hours I have spent with men such as Saburo Moroi and Toshiro Mayuzumi have been rewarding, and now I am pleased to make the acquaintance of Akio Yashiro, who was born in 1929 and died in 1976.
Yashiro was a pupil of Moroi, and like his mentor, he was a man who valued what was traditional in classical music. (Morihide Katayama's booklet notes mention an occasion when Yashiro heckled a John Cage performance, saying "This is no music.") Until 1951, Yashiro studied in Japan; later, he came to France, where his teachers included Nadia Boulanger and Olivier Messiaen.
Messiaen's influence can be heard most strongly in the Symphony, a work commissioned by the Japan Philharmonic Symphony Orchestra and completed in 1958. Large portions of the extended slow movement would not sound out of place in Turangalîla. The Scherzo also mimics the French master's preference for awkward yet striking motifs and complicated rhythmic cells. Overall, the Symphony presents the listener with a stimulating synthesis of Western and Eastern music – not just styles, but instrumental textures as well. The listener notes Yashiro's skill, through orchestration, in creating shimmering sounds that appeal to the senses with some of the elusiveness of Impressionism. In this, he also reminds me of Dutilleux.
The Piano Concerto, composed between 1964 and 1967, wears its influences more discreetly. I gather that this is a basic repertoire work in Japan, and several Western conductors have shown their support for it without any lasting impact. Again, this work is a synthesis of the West and the East, but with an emphasis on the rugged (yet largely tonal) modernism practiced in Eastern Europe during the first half of the century. It's an exciting and approachable work. The haunting Adagio misterioso movement repeats a seven-note (3+4) cell comprised solely of the note C forty-three times; Yashiro was inspired, we are told, by a fever dream he had as a child.
Takuo Yuasa is the Principal Guest Conductor of Belfast's Ulster Orchestra. These are polished performances, although I must admit that I have nothing to compare them to. Hiromi Okada strides confidently through the thorny thickets of the Piano Concerto.
Recommended!
Copyright © 2003, Raymond Tuttle