CD Review
Rolf Liebermann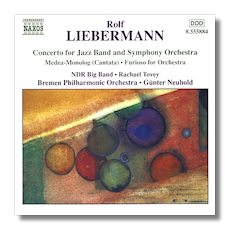 Orchestral and Vocal Works
Furioso for Orchestra 1
Geigy Festival Concerto 1,2
Medea-Monolog 3
Concert des échanges (Symphonie)
Concerto for Jazz Band and Symphony Orchestra 2
1 Simon Nabatov, piano
2 Alfons Grieder, percussion
3 Rachel Tovey, soprano
1 Darmstadt Concert Choir
NDR Bigband
Bremen Philharmonic Orchestra/Günter Neuhold
Naxos 8.555884 64.32
Summary for the Busy Executive: Novel, but not necessary.
Swiss composer Rolf Liebermann is probably better known for his 14-year stint as general director of the Hamburg Opera than for his scores. Indeed, during his term, he completed nothing, or next to nothing. Liebermann studied dodecaphony but absorbed many more influences, especially from vernacular sources. His dodecaphony doesn't necessarily preclude tonality or even melodiousness. He made a splash as a composer with his Echanges and Concerto for Jazz Band and Orchestra. Both appear conveniently on one inexpensive Naxos disc. However, his music at this point receives few performances and fewer recordings. Most of the works on this program show a fine sense of humor, which probably ultimately worked against him.
The one deadly-serious work, the Medea-Monolog, interests me the least. A scena for soprano and orchestra, it belongs to an entire operatic genre – Medea's justification for killing her children. The music mickey-mouses the text, and one looks in vain for a memorable idea. Placing this beside something like Barber's Medea's Meditation and Dance of Vengeance immediately reveals Liebermann's poverty of invention, both in themes and in working-out. The soprano gets put through one dodecaphonic cliché after another and often winds up sounding like a slide whistle. The work comes across as dutiful, rather than inspired.
Furioso is essentially a showpiece, but unlike most, for its rhythmic energy rather than for its orchestration. A fast section, with ideas echoing Bartók's Concerto for Orchestra and Music for Strings, Percussion, and Celesta, sandwiches a genuinely lyrical slow section, which may be twelve-tone. The twelve-tone matters less than the yearning lyricism. When the kinetic section returns, Liebermann puts it against the theme of the middle. To those who believe all twelve-tone music sounds alike, this wouldn't work if you couldn't remember that middle theme.
Liebermann pays homage to his Swiss roots in the Geigy Festival Concerto, commissioned by the Basel chemical company its bicentenary. Liebermann created a little tone poem on Fasnacht, after the first Sunday in Lent, a kind of Swiss Mardi Gras, but more sanitary and proper than what you'd find in New Orleans or Rio. Pipes-and-drum music is big during this time, and the Basel drummers have inspired other Swiss composers, notably Honegger's Fourth Symphony, "Deliciae basiliensis." However, very few have sought to use the instrument itself, and Liebermann may well have been the first. He hasn't composed a concerto exactly, but the drum does have a prominent part and even two brief cadenzas. Most of the piece is based on Swiss folk-tunes until the third section, which for some strange reason is based on British and Irish popular tunes – "The British Grenadier," "London Bridge," "Lillibulero," and "The Girl I Left Behind Me" – looking at themselves in a fun-house mirror.
Les Echanges was another Swiss commission, this time for the Banking Pavilion at the 1964 Swiss National Exhibition. Liebermann came up with a tape piece based on the sounds of the business machines actually on display. We have here, however, not the original, but an arrangement for percussion ensemble by Siegfried Finck. One can sort of hear things like teletypes in the arrangement, but that only whets the appetite for the original, if it still exists. Again, it's primarily a rhythmic study, but rhythms are definitely four-square. Fortunately, the piece does sustain its three minutes.
Liebermann conceived the Concerto for Jazz Band and Symphony Orchestra as a kind of concerto grosso, with the jazz band functioning as the concertino group. It's part of a large group of works that attempt to meld classical music and jazz. In eight sections, it primarily alternates the symphony orchestra with the big band, although both join in the finale. It made quite a stir in Europe at its première, although I suspect most Americans would find it a bit square, especially compared to Gil Evans or Jimmy Giuffre. However, it convinces on its own terms. For the most part, Liebermann keeps the two groups separate, providing music that suits one or the other. On the other hand, as the piece goes along, you realize that the basic music material remains the same from movement to movement. Essentially, the rhythm changes.
Soprano Rachel Tovey gives the Medea-Monolog much more than it deserves, achieving genuine drama, despite Liebermann's somewhat corny score. The rest of the performers do well without standing out.
Copyright © 2008, Steve Schwartz