CD Review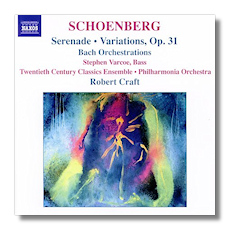 Volume 4
Serenade for Baritone & Septet, Op. 24 *
Variations for Orchestra, Op. 31
Bach Orchestrations
Komm, Gott, Schöpfer, Heiliger Geist, BWV 667
Schmücke dich, o liebe Seele, BWV 654
Fugue in E Flat Major, BWV 552 "St. Anne"
* Stephen Varcoe, bass
* Twentieth Century Classics Ensemble, New York/Robert Craft
Philharmonia Orchestra/Robert Craft
Naxos 8.557522 67:54
Fifty years beyond his death, Arnold Schoenberg is still more popular amongst theoreticians than common listeners. Schoenberg, known as the father of twelve-tone music, is regularly discussed in composition classes but infrequently played by leading orchestras and ensembles. Much is owed to his work's tremendous rigidity and a veneer that is both cold and distant. Undoubtedly, Schoenberg's compositions are a major intellectual feat, but have the affability of a grape Popsicle.
Schoenberg's views are sometimes ironic, such as his criticism of American musical life. In a 1928 interview that deals with his just-written Variations for Orchestra, he remarks that Europeans would be composing smaller works if not for the "less refined nerves" and "monumental" demands of American audiences. Six years later, Schoenberg was teaching in Boston, having lost his appointment in Berlin and escaped racial persecution. While an instructor at UCLA, Schoenberg mutually ignored Igor Stravinsky, who lived just a few miles away in Hollywood, but was a tennis-playing friend of George Gershwin. In the meantime, Robert Craft has embodied reconciliation between two vastly different schools of thought whose members have wanted nothing to do with each other. Craft is attributed with helping Stravinsky into a middle ground between his neoclassical roots and the modern compositional techniques he was suspicious of. It is personalities such as Craft who are able to link musical tradition of past centuries with modernist trends that sharply divide the two groups. Fittingly, Craft is accomplished as a conductor and commentator of both old and new, equally at home in dealing with Mozart and Webern.
Craft has maintained a commitment to the Second Viennese School, including his recording of works by Schoenberg. He has also recently signed with budget label Naxos, whose Robert Craft Collection now spans over 15 volumes. Seven discs comprise The Music of Arnold Schoenberg and volume four offers the Serenade, Variations for Orchestra, and Bach Orchestrations. These titles, with Craft leading the Twentieth Century Classics Ensemble in 1994 and the Philharmonia Orchestra in 1998, are actually a combined reissue of Koch International Classics 3-7334-2 and 3-7463-2.
By far the more striking of this disc's twelve-tone works is the Serenade (opus 24), which Schoenberg completed in 1923. The Serenade (tracks 1-7), written for seven instrumentalists and bass vocal, is an attention-grabbing piece that makes brilliant use of timbre and rhythmic variation. Craft has a solid grip on the material and captures the piece's homage to traditional forms such as march, minuet, landler, and lied. Of particular note is bass Stephen Varcoe, whose recitation of Petrarch's Sonnet 256 is articulate and sentimental. The ensemble is never in doubt, even while playing a score that bewilders the most gifted musicians.
The mentioned Variations for Orchestra (opus 31, tracks 8-19) are twelve brief movements that Schoenberg often called his applied treatise on twelve-tone composition. This work, while efficiently played by Craft and the Philharmonia Orchestra, is much less approachable than the Serenade. It places almost zero emphasis on traditional symphonic forms and has fewer stabilizing elements like the Serenade's bass vocal and dance-like patterns. The Variations are steeped in unrelieved dissonance and a chore for uninspired listeners to get through. But for the more attuned, this work stands as a grand, insightful document on new horizons and further musical possibility.
Craft's inclusion of the Bach Orchestrations (tracks 20-22) is an odd move. Learning to appreciate Schoenberg's music is a considerable task and including this enhanced brilliance of Bach only reminds novices of how great their world has been – the world of songlike melodies, driving pulse, and stylistic elegance. Schoenberg, who uses a B (B-flat)-A-C-H (B-natural) motive repeatedly in the Variations, orchestrated Bach's triple fugue in E Flat Major, Schmücke dich, O liebe Seele, and Komm, Gott Schöpfer, heiliger Geist as further homage to the 18th-century master. They come as a relief to the disarming nature of twelve-tone music and are evidence that serialism will remain in a compromised position against tonality.
Overall, this disc provides an interesting look at Schoenberg's serial trailblazing and his respect for masters of the past. Schoenberg himself proved versatile in both serialism and the older, more traditional forms of composition through such works as Verklärte Nacht and Pelléas und Mélisande. And ultimately, he won the respect of many composers who followed, such as Alban Berg, Anton von Webern, Hanns Eisler, and, in spite of himself, Pierre Boulez.
Copyright © 2008 by Paul-John Ramos