CD Review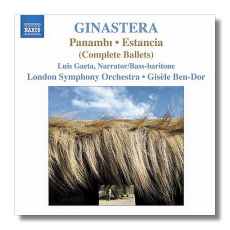 Ballets
Panambí, Op. 1
Estancia, Op. 8 1
1 Luis Gaeta, narrator/bass-baritone
London Symphony Orchestra/Gisèle Ben-Dor
Naxos 8.557582 DDD 72:32
Originally released on the Conifer Classics label in 1998, this release retains much of its considerable powers of attraction on a less expensive Naxos disc. Even Simon Wright's original booklet note has been reused, albeit only in English. The only real loss is the omission of Estancia's Spanish texts and English translations. These can be obtained online, however, through Naxos' website.
Both of these scores are ballets. Panambí (the composer's official Opus 1) dates from 1937, and Estancia from just four years later. Later in his career, Argentine composer Alberto Ginastera would venture into serialism. These works, however, have a clearly defined tonal center, and are not at all difficult. Elsewhere, I've called Ginastera "the Ottorino Respighi of South America," and that description fits Panambí and Estancia quite well. The former work also is reminiscent of Ravel's music, and also of Stravinsky's. There is a passage, repeated several times during the course of the ballet, which might have been taken from Ravel's Ma mère l'Oye. At the end of Panambí, music similar to Ravel's Daphnis et Chloé is superimposed over the Ma mère l'Oye -like music. (In both Daphnis and Panambí, it is the dawn that is being depicted, so I guess this makes sense.)
Panambí is set among the Guaraní Indians, the subjects (and some of the actors) in the 1986 film TheMission. In Panambí, however, there are no Jesuit priests. Unfortunately, Wright's notes do not outline the story of the ballet, except to say that it is a legend of love and magic. (But so is Swan Lake !) However, one can approximate a plot from the titles of the 17 tracks dedicated to this score, and from the characters: there is a sorcerer, some water sprites and warriors, girls who first do a round dance, and then lament – echoes of The Rite of Spring, perhaps?
If Panambí traffics in primitivism, Estancia is permeated with folkloric elements. It depicts life on an Argentine cattle ranch from one dawn to the next. A suite of four dances from this ballet has been recorded fairly often; oddly enough, Ben-Dor was the first to record the complete ballet. (I don't think any competing versions have appeared since 1998.) I suspect the reason for this is Ginastera's inclusion of spoken and sung passages for a male voice, and not because they are of inferior quality, but simply because they add another level of complication to performances and recordings. In fact, Estancia promises a rollicking good time for all, not least in the frantic final section, a "Malambo" whose driving rhythms might compel listeners either to throw things… or to get up and dance.
Uruguayan conductor Gisèle Ben-Dor gets good playing out of the London Symphony Orchestra, and she is sensitive to the music's quiet, open-spaces melancholy, as well as to its bursts of explosive energy, even machismo. Appropriately, bass-baritone Luis Gaeta tones down operatic nuances in his solos, and turns himself into a convincing gaucho. Naxos has not disturbed Conifer's excellent engineering; this is one to rattle the rafters with.
Copyright © 2007, Raymond Tuttle