CD Review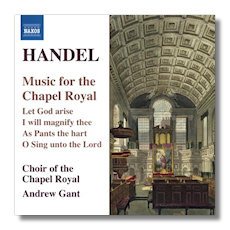 Chandos Anthems
Let God arise, HWV 256b
I will magnify thee, HWV 250b
As Pants the hart, HWV 251d
Sing unto the Lord, HWV 249a
Two movements from As Pants the hart, HWV 251a
Choir of the Chapel Royal
Musicians Extra-ordinary/Andrew Gant
Naxos 8.557935 DDD 60:55
This CD gathers together several of the anthems that Handel wrote for the Chapel Royal between 1712 and circa 1725. The "Chapel Royal" was not so much a place as an institution, namely, the personnel – clergy, professional musicians, and so on – who conducted religious services for the royal household, wherever it might wish to worship. Often this was in St. James's Palace, where this CD was recorded, but on other occasions it was in nearby Queen's Palace, or in St. Paul's Cathedral. For more than two decades, there has been a lot of excitement over "authentic performance practice." By recording this program in St. James's, Andrew Gant and company have (arguably) taken authentic performance practice one step further.
While the coronation anthems and full-length oratorios such as Messiah are likely to remain the most popular examples of Handel's sacred choral music, the works recorded here are not inferior in any way. Hearing them, our admiration for the composer is increased, and that admiration is not seasoned by our being reminded that Handel frequently borrowed from himself, or reworked older music to make it suitable for new venues or occasions. For example, I will magnify thee and Let God arise originally were so-called Chandos Anthems – that is, they were composed in the late 1710s for James Brydges, the Duke of Chandos, to be sung at his estate, which was known as Cannons. A few years later, Handel recomposed parts of both of them for the Chapel Royal, and added movements from other Chandos Anthems for good measure. Thus, while Naxos' assertion that these anthems for the Chapel Royal are among Handel's least-known music is technically correct, listeners might well have a few "where have I heard that before?" experiences while hearing this CD.
Andrew Gant wrote the lengthy and informative booklet notes that accompany this CD. He was a Choral Scholar at St. John's College under George Guest, and after holding several positions as a singer, organist, and choral conductor elsewhere, he became associated with Her Majesty's Chapels Royal in 2000. A composer as well, he is nothing less than a descendant (professionally speaking) of Handel himself. There is no question about his scholarship and musicianship, and the performances he leads on this CD are not just stylistically appropriate, but also full of life and excitement. The Choir of the Chapel Royal includes ten boys, and six "Gentlemen-in-Ordinary," among whom we find veteran alto James Bowman, who now is in his mid-sixties. His voice has lost some of its freshness, but he, like Gant, certainly knows his way around this repertoire, and so his presence here remains an asset. Incidentally, the combined number of 16 choristers is not far from what Handel would have known. Taken as a group, Gant's singers lack the shrillness one sometimes encounters from English choral groups of this kind; the boys seem to have bathed their growing vocal cords in honey. Sometimes the choral sound is somewhat thin, but it is never tenuous, and everyone involved in this recording should be pleased… as I am sure Handel himself would have been. Excellent engineering. The sung texts are not included, but they may be downloaded from Naxos' website.
Copyright © 2007, Raymond Tuttle