CD Review
Gian Carlo Menotti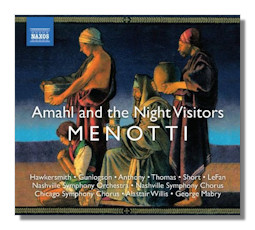 Amahl and the Night Visitors
My Christmas *
Ike Hawkersmith, treble (Amahl)
Kirsten Gunlogson, mezzo-soprano (Mother)
Dean Anthony, tenor (King Kaspar)
Todd Thomas, baritone (King Melchior)
Kevin Short, bass (King Balthazar)
Members of the Chicago & Nashville Symphony Choruses
Nashville Symphony Orchestra/Alastair Willis
* Members of the Nashville Symphony Orchestra & Chorus/George Mabry
Naxos American Opera Classics 8.669019
Although I am actively trying to add fewer "classic" performances to our review archives in the next few months, that doesn't mean I can't add "classic" works, This much-beloved made-for-television opera has surprisingly few recordings. There's basically Thomas Schippers 1951 effort with the original cast on RCA, and a hard to find digital issue on Jay Records. Schippers has to this point been considered the best, and indeed the performance has everything. There's great conducting, fine singing, a sense of occasion, and very good sound for 1951. This 2008 from Naxos gives it serious competition, and is a must for fans of the work.
An opera about Christmas in English is a treat for kids and adults alike. I've seen it live, and it's a joy. A young, disabled boy lives in poverty with his despairing mother. When the Three Magi come singing (and bumbling) by, their tiny town erupts in excitement over both their company and their wealth. Desperate to provide for her son, the mother steals their priceless items. Caught in the act, the Kings are unsurprisingly angry, but the boy Amahl staunchly defends her. She returns the items, Amahl is healed as if by magic, and he travels with the Magi to follow the star to the infant child they seek. Along the way, there is humor, sorrow, and happiness. It's a compact work that feels just right.
The solo voices are frankly just okay, but they sing with great sincerity and heart. They seem less engaged than the pioneering effort on RCA, but then they are doubtless better recorded. The Three Kings are especially faceless compared to the original cast, but then the latter men were hamming it up for television. They are certainly not as funny as one would hope. That said, treble Ike Hawkersmith (undoubtedly not one anymore) times his lines wonderfully and coaxes several genuine smiles. The mother is played delightfully as well.
The combined choruses make an immediate impression as they enter later on; these are two of the country's best. The diction is outstanding. The Nashville forces also play very well, and have several places where they add real atmosphere. Naxos captures all of this in wonderful sound, and even adds a small bonus in another one of Menotti's Christmas pieces. Make no mistake, this disc is all about having a modern recording of this opera at a great price.
Copyright © 2014, Brian Wigman