CD Review
Igor Markevitch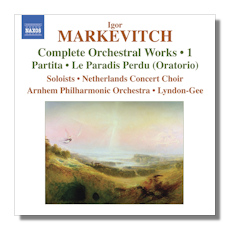 Complete Orchestral Works
Volume 1
Partita (1931) *
Le Paradis perdu (1933-34) **
* Martijn van den Hoek, piano
** Lucy Shelton, soprano (Eve)
** Sarah Walker, mezzo (La Vie)
** Jon Garrison, tenor (Satan)
** Netherlands Concert Choir
Arnhem Philharmonic Orchestra/Christopher Lyndon-Gee
Naxos 8.570773 75:37
Summary for the Busy Executive: Rediscovery.
Today, most people know Igor Markevitch as one of the last century's great conductors, delivering particularly stunning readings of Russian and French composers from the Late Romantic period on. Before World War II, however, many thought him the person most likely to become the next Stravinsky.
Markevitch made his mark as a composer while still in his teens, getting commissions from Diaghilev, the impresario who had made Stravinsky's career and who had taken ballet out of the hands of theater journeymen and had put it into the hands of major artists. Although Markevitch conducted occasionally, people thought of him primarily as a composer. World War II turned things around. A stateless person caught in Italy, Markevitch joined the anti-Fascist partisans and by all reports acquitted himself bravely. However, he discovered that he had lost not only interest in his previous work but the desire to compose altogether. Unlike other composer-conductors like Boulez and Bernstein, he wouldn't perform his own work, strongly believing that if it had merit, it would find its way. A few years before his death, someone got up a Markevitch festival, he attended, probably gritting his teeth. The works' quality surprised him.
In the late Nineties, Marco Polo recorded Markevitch's complete orchestral catalogue, seven volumes conducted by Christopher Lyndon-Gee. These have all migrated to the Naxos label. I intend to review the entire set and about five years ago wrote about volume 6 when it was still on Marco Polo (volume 5 of that series). Although I have no difficulty seeing why Markevitch attracted such interest, in general I agree with his own assessment: the music is not necessary. You won't ruin your life for having missed it, although it certainly earns respect. Nevertheless, I haven't found anything that grabs me like Stravinsky's Symphony of Psalms, Milhaud's Concerto for Percussion, Honegger's Jeanne d'Arc au bûcher, or any number of works by Jolivet, just to name a few geniuses working in France at the same time whose idiom might resemble Markevitch's.
Of the two works on the present program, I prefer the Partita, written when the composer was 19. It reminds me in many ways of Stravinsky's Ragtime, particularly in its jazzy cross-accents and its terse elegance. Mostly, I find it vigorous fun, with real feeling in the Bach-inspired chorale second movement, where the piano sings in arioso and the orchestra its chorale. It announces a young composer eager to make a splash and to speak his own mind.
Considered by many one of Markevitch's finest works, Le Paradis perdu (paradise lost) is rather loosely based on Milton. Make that "way loosely." I find it an hour-long bore. The libretto by the composer is less a justification of the ways of God to man than a sappy nattering of Love and the Life Force, à la Madame Blavatsky. It's just as bad in French as it is in English, and the music, to me an "unnecessary" rewrite of Milhaud's far more interesting L'homme et son désir, does nothing to make you forget it, despite some arresting orchestral textures and beautiful control over large forces. However, most of it proceeds so slowly, you find yourself looking ahead to the next Ice Age. Even at the faster tempos, one more or less seems to stay in place rather than move ahead. Markevitch builds and falls away from his climaxes at a slower rate than he can sustain. Compare, for example, the opening long crescendo to Honegger's in Jeanne d'Arc. Honegger creates tension, Markevitch dramaless ritual.
The performances provide whatever snap the program has. As you might guess, I prefer the Partita's. Pianist Martijn van den Hoeck gleefully chews off hunks of notes, while Lyndon-Gee and his Arnhemers provide a crisp, yet eerie background. Lucy Shelton spins out long lines with better diction than her usual, but occasions remain when you can't make out her words with the libretto in front of you. It's time for a consonant, Vanna, any consonant. Tenor Jon Garrison manages to sound like a very good French tenor, with a slight metallic edge, and he gets the lion's share of the interesting music. Nevertheless, mezzo Sarah Walker strikes me as the best singer of the three. Lyndon-Gee keeps Markevitch's complex textures clear, for the most part.
Copyright © 2012, Steve Schwartz.