Related Links
Recommended Links

Site News
CD Review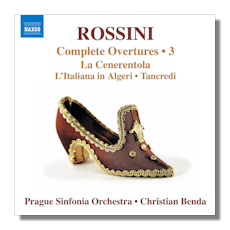 Complete Overtures, Volume 3
Maometto II (1822 Venice version)
L'Italiana in Algeri
La Cenerentola
Grand'overtura "obbligata a contrabasso"
Matilde di Shabran, ossia Bellezza, e cuor di ferro
La cambiale di matrimonio
Tancredi
Prague Sinfonia Orchestra/Christian Benda
Naxos 8.570935
Also available on Blu-ray Audio with Volume 4 (15 works total) on NBD0035:
Amazon - UK - Germany - Canada - France - Japan - ArkivMusic - JPC
Truth be told, my least favorite part of this disc was typing all the overtures out. Like the first few volumes of the series, there is a welcome mix of works you probably know and works you probably don't. And also like those volumes, the music making is excellent. These small Czech forces have taken to these pieces like a duck to water, and this easily becomes the orchestral series of reference for Rossini. Despite lacking some of the more famous overtures, there's nothing here that isn't charming, gorgeously played, and wonderfully recorded.
Balances are very natural, and articulation is crisp and clean. Winds are perhaps just a touch too forward – I am not the first to make this complaint – but they play so well that it seems silly to quibble. All the other sections distinguish themselves handsomely. Not every one of these pieces is a masterwork, but great is the conductor who can make it sound so anyways. Christian Benda recognizes that these pieces yield to no one in terms of charm, and he inspires his forces to play with a tremendous amount of verve and conviction.
Only in the brass do I feel like something is lacking – the trombones and horns have an almost watery French sound, the kind that critics wax lyrical about when reviewing historical issues, but paradoxically hate at all other times. No matter, it might be a sound you enjoy, and it does give a sense of character to the ensemble. At this point in the series, you might want a different conductor or ensemble for a piece or two, but as a whole nothing else on the market is comparable in terms of completeness and quality. I can't think of a better way to spend an hour musically, and nothing here is anything less than excellent. At the Naxos price, it's very much worth it, my only concern being that the whole series will end up in some budget box down the line. No matter, if you've invested already, Volume 3 us more of the same. Enjoy!
Copyright © 2014, Brian Wigman