Related Links
Recommended Links

Site News
CD Review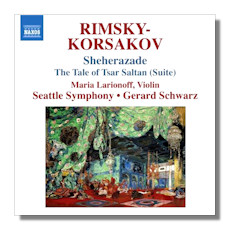 Legends
Schéhérazade, Op. 35 *
Suite "Tale of Tsar Saltan", Op. 57
Flight of the Bumblebee from "Tale of Tsar Saltan", Op. 57
* Maria Larionoff, violin
Seattle Symphony Orchestra/Gerard Schwarz
Naxos 8.572693
This is the first of three discs from Naxos devoted to the composer and released at the very end of Gerard Schwarz's Seattle tenure. After making a reputation largely on neglected American orchestral music, Schwarz began to take the orchestra in a different direction. While his Delos efforts – the best of which have also appeared on Naxos – can often come off as lackluster, he seems to have acquired a genuine feel for some of the great Russian classics.
Among modern readings of Schéhérazade, this is arguably one of the better ones. Beautifully captured, the orchestra responds with excitement and intensity to this richly colorful score. The Seattle strings have always been considered excellent, but the winds and brass also deserve special mention. For his part, Schwarz correctly focuses on the lower voices of his orchestra, allowing the music to really resonate from the bottom up. The result is great tension when required, but also tremendous warmth and depth of sound. While not matching Fritz Reiner for sheer heat – the Finale here feels just a touch underpowered – the amount of orchestral detail that the conductor and his forces take the time to uncover is certainly worth nothing. Finally, Maria Larionoff proves utterly bewitching in the "title role", effortlessly complimenting the overall vision on display. All in all, this is excellent.
If anything, the Suite is even finer, an account bursting with virtuosity and delight. The same characteristics that made Schéhérazade so successful are all here, with no one afraid in the slightest to simply let go and have a good time. Woodwinds and brass are wonderful, and again, the attention to the lower end of the ensemble really gives the music a rock-solid base to build off of. The whole work is unusually compelling and really shows off the composer's abilities. Pacing is about perfect, and the whole project sounds terrific. Oh yes, the Flight of the Bumblebee is here, and sounds great too. A real treat.
Copyright © 2014, Brian Wigman