CD Review
Federico Moreno Torroba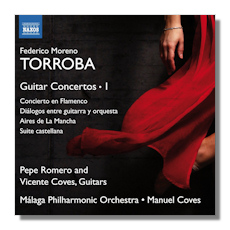 Guitar Concertos, Volume 1
Aires De La Mancha 1
Concierto en Flamenco 1,3
Diálogos 2,3
Suite Castellana 2
1 Pepe Romero, guitar
2 Vicente Coves, guitar
3 Málaga Philharmonic Orchestra/Manuel Coves
Naxos 8.573255 77:19
To Jessica and Nicole, my favorite guitarists and my dearest friends.
Guitar concertos are a rarity, both on disc and in concert. In the latter setting, balancing the instrument is a tremendous challenge. The Spanish seemingly have the most famous works for guitar and orchestra, which is not to say they have the best. Indeed, most of Rodrigo makes me rather sleepy, no matter how well-crafted the music is. There are certainly great pieces out there, but finding a general audience for those has never been easy.
Perhaps that 's what makes this projected series devoted to Torroba so enticing. The two concertos here – one of which has never been on disc before – have the very qualities that make a great guitar concerto. Firstly, the solo writing is wonderfully charming and full of vitality. While the never-recorded Concierto en Flamenco shares the Spanish flavor of Rodrigo 's more famous creations, it has a considerably more interesting feel overall. There 's more contrast, and a greater exploration of the instrument 's capabilities. For a work from 1962, it 's very conservative from a musical point-of-view, but that may not be a detriment for you in the first place. Secondly, the orchestral parts are uniformly gorgeous. Again, there 's nothing shocking or unsettling here. The music simply sparkles, and the Málaga Philharmonic Orchestra features some exceptional solo players that help bring this music to life. Pepe Romero remains a commanding player who – while perhaps not as daring or adventurous as his younger colleagues – brings his customary musicality to the project.
Diálogos is even more interesting, if only because there 's a more cosmopolitan feel to the piece as a whole. Again, there 's some nice woodwind writing that compliments solo line very nicely. Guitarist Vicente Coves studied under Romero, and plays with both supreme confidence and elegance. The Málaga Philharmonic struggles a little more in this work. The low strings in particular are less than lovely, but this four-movement piece truly deserves to be an addition to the repertoire and at nearly 32-minutes, could easily be a centerpiece for a subscription concert. Written in 1977, it 's completely accessible for all audiences (again, outside of its four-movement structure, little is groundbreaking from a sound perspective).
Generously rounding out the disc are two solo suites, one taken by each of the two guitarists. Romero takes Aires de La Mancha, composed in 1966, while Coves tackles Suite Castellana. The latter features Danza, the composer 's earliest work for solo guitar. I don't find these suites quite as musically compelling, but they are both worthwhile additions to a limited collection of repertoire. Once again, both players are totally committed to these works, and they make a nice contrast to the concertos. I imagine that this series will have about four or five more installments. When completed, it will doubtless serve as a prime recommendation in this music, as well as yet another coup for Naxos.
Copyright © 2016, Brian Wigman