Related Links
Recommended Links

Site News
CD Review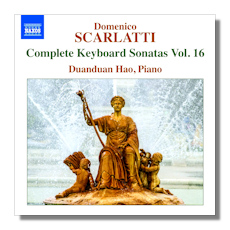 Complete Keyboard Sonatas, Volume 16
Sonata in A Major, K. 280
Sonata in D minor, K. 417
Sonata in B Flat Major, K. 440
Sonata in D Major, K. 511
Sonata in C Major, K. 200
Sonata in F minor, K. 467
Sonata in C Major, K. 231
Sonata in B Flat Major, K. 488
Sonata in F Major, K. 541
Sonata in D Major, K. 336
Sonata in G Major, K. 390
Sonata in C Major, K. 308
Sonata in D Major, K. 118
Sonata in B Flat Major, K. 528
Sonata in G Major, K. 260
Sonata in D Major, K. 458
Sonata in C minor, K. 362
Sonata in C Major, K. 133
Duanduan Hao, piano
Naxos 8.573288 74:57
Mr. Robert Cummings had very nice things to say back in 2011 regarding Duanduan Hao's previous installment in this series: Volume 14 (Naxos 8.572586). Much like that disc, this is an extremely generous program at nearly 75 minutes of music. Whether you are collecting the entire lot, or just dabbling, this is a string entry for any Scarlatti fan. I don't personally believe you need all 500-something sonatas to live a full and happy life, but having at least some of them enhances the musical experience of any listener. Never lasting as much as six minutes, each of the sonatas on this program are tunefully crafted mini-masterpieces that are brimming over with charm and vitality.
Duanduan Hao clearly appreciates this music. He plays with a cheerful grace that infuses each piece with individuality. Truth be told, after an hour and a quarter, these pieces can sound awfully similar. But Hao gives each work a real sense of character, finding particular drama in the darker, minor key works. Better yet, the more lighthearted pieces gain personality through Hao's careful phrasing and attention to dynamics. Some of these sonatas have never been reviewed on Classical Net, and most were brand new to me. Whether you are studying these pieces as a pianist, using them to read or relax, or just enjoying them on a long drive, there really isn't a dud in the bunch.
The recording, which dates from 2013, is typically excellent. Why we had to wait for two years to hear this installment is beyond me, but here it is. Hao is still just over 25 and isn't the mature, seasoned artist that, say Horowitz was when playing these pieces. Occasionally, for all of his enthusiasm, some of his habits become predictable; he sometimes plods the bass lines. Still, it was worth the wait, and collectors who have been following this series will doubtless appreciate this volume as well.
Copyright © 2015, Brian Wigman