CD Review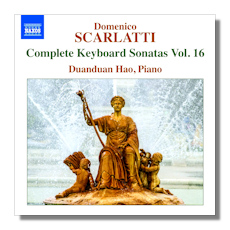 Complete Keyboard Sonatas, Volume 16
Sonata in A Major, K. 280
Sonata in D minor, K. 417
Sonata in B Flat Major, K. 440
Sonata in D Major, K. 511
Sonata in C Major, K. 200
Sonata in F minor, K. 467
Sonata in C Major, K. 231
Sonata in B Flat Major, K. 488
Sonata in F Major, K. 541
Sonata in D Major, K. 336
Sonata in G Major, K. 390
Sonata in C Major, K. 308
Sonata in D Major, K. 118
Sonata in B Flat Major, K. 528
Sonata in G Major, K. 260
Sonata in D Major, K. 458
Sonata in C minor, K. 362
Sonata in C Major, K. 133
Duanduan Hao, piano
Naxos 8.573288 74:57
Duanduan Hao was the pianist on volume 14 in this massive Naxos series devoted to the complete keyboard sonatas of Domenico Scarlatti, and I reviewed that effort here (Naxos 8.572586) in 2011, praising the pianist for his performances and suggesting that he might well develop a highly successful career on the concert stage. Listening to this new volume in the series, I find nothing to change those positive assessments, but rather more evidence to bolster them. Hao is a subtle artist, always aware of the emotional tenor of each piece, deftly balancing main and secondary lines, and always seeming to find the right tempo.
In the first two sonatas on this disc, as well as in several other ones later on, Hao's dynamics tend to be somewhat on the potent side. However, I'm not sure that's detrimental at all to his interpretive take on these works, as he still effectively conveys the effervescence and elegance of the A major Sonata (K. 280) and the epic character of the D minor (K. 417), the latter arguably benefiting from his beefier approach. Hao is a bit less weighty in the more gentle B flat major (K. 440) – actually, a minuet. In the ensuing D major (K. 511) he deftly conveys both its perky and thoughtful sides. The bouncy playfulness of the C major (K. 200) is quite irresistible in Hao's hands and the anxiety and emotional ambivalence of the F minor (K. 467) come across convincingly, making this one of the finest performances here.
I could go on taking one sonata after the other consecutively and consistently find strength after strength in Hao's playing, but let me just point out a few additional highlights. Hao seems to perfectly capture the delightful mixture of joy and busyness in the G major Sonata (K. 390) with many subtly applied gradations in dynamics and with an almost uncanny grasp of voicing between the right and left hands. He delivers a spirited account of the somewhat quirky D major (K. 118), seeming to delight in the many trills and upward swoops. Hao's G major Sonata (K. 260) brims with energy and color in its breathless pacing and subtle phrasing, and the disc's concluding sonata, the C major (K. 133), sounds so ebullient and joyful, yet appropriately somewhat offbeat as Scarlatti's distant modulations, chromaticism and other once-advanced features which set the composer apart from many of his contemporaries fit in so well to the witty character of the music in this performance.
The sound reproduction is vivid and the booklet notes by Keith Anderson are very informative. In sum, here is yet another excellent addition to this fine Naxos project: I've reviewed a half dozen of them here as well as Scarlatti performances on other labels, but the two discs by Duanduan Hao are easily among the most impressive. Highly recommended!
Copyright © 2015, Robert Cummings