Related Links
Recommended Links

Site News
CD Review
Talich Conducts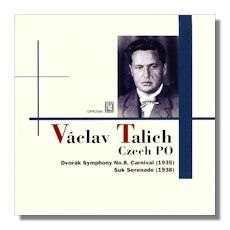 Symphony #8 in G Major, Op. 88
Overture "Carnival", Op. 92
Josef Suk: Serenade for Strings in E Flat Major, Op. 6
Czech Philharmonic Orchestra/Václav Talich
Monaural, Recorded at Abbey Road Studios, London
Opus Kura OPK2085
Much like previous installments in Opus Kura's Talich series, this program shows the Czech Philharmonic Orchestra in truly historic Dvořák performances. Recorded in London, this Symphony #8 is one of the best of its era, while the fillers are no mere makeweight. The sound is remarkably fine given the 1935-1938 vintage, and the notes are happily printed in English as well as Japanese.
The Symphony is intensely personal and full of unique touches (the same could be said of almost all Talich's Dvořák), while the Czech Philharmonic is mostly fabulous. There are some wholly unexpected struggles in the brass section, particularly in the first movement. I didn't catch such glaring issues in Symphonies #6 or #7, though the playing was admittedly less than perfect there as well. Still, no one listens to this kind of historical issue for technical perfection (even Toscanini buffs don't) and we focus instead on the conductors. Talich phrases everything with the utmost care. The only Adagio that matches this one in terms of flow and beauty is Szell's live stunner on Audite with these same forces over three decades later. While the winds are a touch shaky, the strings are as radiant as you could want from this period, and the first-chair playing is both tender and assured. The third movement waltz is one of the better ones I've heard, while the Finale is slower than expected but tremendously controlled.
The "Carnival" Overture is very good without being anything spectacular, though there us still great value in hearing Talich's insights and execution. The real treat though is the Suk Serenade, Op. 6. Last seen on the "Great Conductors of the Century" line – with the Talich volume an indisputable gem – the Opus Kura re-mastering is altogether superior to the EMI/BMG joint effort. The piece itself is simply gorgeous, and there's very little reason not to like it. But the "Great Conductors" edition featured very shrill sound and harsh dynamics. While not exactly audiophile quality, this Japanese issue tames much of that roughness and gives us a more tonally alluring picture. And thank God, too; this still remains one of the finest versions of the work ever. Don't ditch the "Great Conductors" set; Talich's outstanding 1954 "New World" takes top billing. But do consider getting this disc from Albany Music, since there is a great deal to savor.
Copyright © 2015, Brian Wigman