DVD Review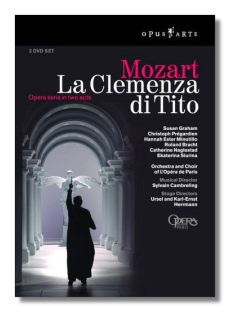 La Clemenza di Tito
Susan Graham – Sesto
Christoph Prégardien – Tito
Catherine Naglestad – Vitellia
Hannah Esther Minutillo – Annio
Ekaterina Siurina – Servilia
Roland Bracht – Publio
Orchestra & Chorus of the Opéra de Paris/Sylvain Cambreling
Ursel and Karl-Ernst Hermann – Stage Directors
Opus Arte DVD OA0942D 212 min 2DVDs Anamorphic Widescreen Dolby Digital DTS 5.1 LPCM Stereo
There is little doubt that Mozart composed some of his most inspired music for this opera – music that listeners unfamiliar with the work should hear. Today the common wisdom on La Clemenza di Tito, Mozart's last opera, is that it is a masterpiece finally receiving the attention it rightly deserves after a long period of neglect. The musical and instrumental numbers, admirers of the opera assert, are beautiful and ingeniously imagined, while the secco recitatives, they concede, are only mediocre, the product of another hand. Indeed, all this is true. But the problem with this assessment is that those recitatives occupy a healthy portion of the opera. Stripping them away for a concert performance would reduce the work by nearly half. Listening to the opera, you often find yourself anxiously awaiting the next aria, duet, ensemble number or chorus.
That said, I'm not sure how much stronger the work would actually be if Mozart had composed the recitatives. Let's face it, I've never heard any singer deliver a recitative that brought down the house. Maybe that's why I've never been a great fan of recitatives in opera. I guess, to me, they're like spinach – good for you, you tell yourself, while you watch your fork hanging around the meat and potatoes and pining for dessert.
In any event, Mozart's opera, flawed though it may be by the taint of a lesser hand in places, is eminently worth knowing. And this recording of it is excellent, especially in the contribution by the principals in the cast. Susan Graham, in the trouser role of Sesto, is utterly brilliant, both vocally and dramatically. Try her aria Parto, ma tu ben mio near the end of Act I, to cite just one instance of her superior artistry. Catherine Nagelstad, in the role of Vitellia, is also stunning, as are Hannah Esther Minutillo, in the other trouser role here, that of Annio, and Ekaterina Siurina as Servilia. The male principals are splendid as well, with Christoph Prégardien quite memorable in the role of Tito. Roland Bracht, too, is excellent as Publio.
The opera's sets are rather barren and abstract in appearance in what will be regarded as a controversial production to some viewers. Costumes and lighting are fine, and in the end I must say the stage directors – the husband-and-wife team of Ursel and Karl-Ernst Hermann – succeed in presenting the work in a sort of timeless world, hinting at both the ancient and modern, and at Mozart's 18th century, as well. At any rate, I personally found the production effective. The orchestra plays well under the baton of Sylvain Cambreling, and the sound is vivid. Recommended.
Copyright © 2006, Robert Cummings