DVD Review
Grand Operas on DVD
La Bohème
Mimi – Inva Mula
Rodolfo – Aquiles Machado
Musetta – Laura Giordano
Marcello – Fabio Maria Capitanucci
Schaunard – David Menéndez
Colline – Felipe Bou
Parpignol – Gonzalo Fernández De Terán
Benoit – Juan Tomás Martínez
Alcindoro – Alfredo Mariotti
Orchestra & Chorus of the Teatro Real
Madrid Symphony Orchestra & Chorus/Jesús López-Cobos
Giancarlo del Monaco, stage director
Recorded live at the Teatro Real, Madrid, March 2006
OpusArte DVD OA0961D LPCM Stereo Dolby Digital DTS Anamorphic Widescreen

Elektra
Elektra – Eva Johansson
Klytämnestra – Marjana Lipovšek
Chrysothemis – Melanie Diener
Aegisth – Rudolf Schasching
Orestes – Alfred Muff
Orestes' Tutor – Reinhard Mayr
The Confidante – Cassandra McConnell
The Train Bearer – Christine Zoller
A Young Servant – Andreas Winkler
An Old Servant – Morgan Moody
The Overseer – Margaret Chalker
Five Maidens – Liuba Chuchrova, Irène Friedli, Sen Guo
Katharina Peetz, Kismara Pessatti
Chorus of the Zürich Opera House
Orchestra of the Zürich Opera House/Christoph von Dohnányi
Stage Director – Martin Kušej
TDK DVD DVWW-OPELEK LPCM Stereo Dolby Digital DTS Anamorphic Widescreen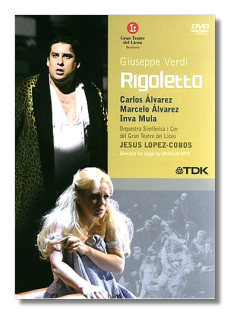 Rigoletto
Duke of Mantua – Marcelo Álvarez
Rigoletto – Carlos Álvarez
Gilda – Inva Mula
Sparafucile – Julian Konstantinaov
Maddalena – Nino Surguladze
Giovanna – Merce Obiol
Count Monterone – Stanislav Shevts
Marullo – Joan Martin-Roya
Matteo Borsa – John Plazaola
Count Ceprano – Davis Rubiera
Contess Ceprano – Sandra Galiano
Orchestra & Chorus of the Gran Teatre del Liceu, Barcelona/Jesús López-Cobos
Graham Vick – Stage Director
Reocrded live at the Gran Teatre del Liceu, Barcelona, December 2004
TDK DVD DVWW-OPRIGL LPCM Stereo Dolby Digital DTS Anamorphic Widescreen
This Bohème is excellent in just about every respect. Inva Mula (or, as she has been known, Inva Mula-Tchako or – Çako) is a major operatic star, first drawing international notice for her work in the 1997 film The Fifth Element, in which she dubbed the voice of the Diva. Here she delivers a splendid portrayal of Mimi, drawing you in with both her vocal prowess and splendid dramatics skills. When she dies at the end, you feel the heartrending tragedy, the overwhelming loss. Her Si, Mi chiamano Mimi is beautifully rendered, and virtually every other major number she's involved in comes off convincingly, movingly.
Aquiles Machado is also extremely impressive. I read a few other reviews of his performance here. One critic declared he had an off-night; another was satisfied, though not overly enthusiastic. Me – I'm enthusiastic. Machado has a powerful, creamy tenor voice, with a beauty of tone that augurs a career in the league of Pavarotti or Domingo. He may have to polish his dramatics skills a bit, but vocally he's thrilling. The other principals in the cast are convincing, as well. Laura Giordano's Quando me'n vo is slightly offbeat but still charming. The orchestra plays enthusiastically for the always-insightful Jesús López-Cobos.
Giancarlo del Monaco's stage direction is imaginative and colorful, offering a fairly traditional rendering of this Puccini masterpiece, with stylish period costumes and sets. The sound reproduction and camera work are excellent. There may be better Bohème performances out there, but this one is a strong competitor against almost any comers.
With Elektra, we have a performance dominated by Eva Johansson. Initially, she struck me as going way over the top, but as the opera proceeded I adjusted to her deftly conceived fanatical character and bloodthirstiness. This is one fine performance and must rank among the strongest Elektras on DVD or CD. I have already stated in earlier reviews that I am not a great fan of the music of Richard Strauss (perhaps a deficiency of mine), but Elektra is the one work of his that I find totally fascinating. It is Strauss' most radical major score – maybe his most imaginative – possessing little of that saccharine string sound so typical of the composer, while offering much expressive depth in its weird, dissonant sound world. Fans of Strauss will want this recording for the Johansson performance alone, but the other principals are strong as well. Melanie Diener turns in fine work as Chrysothemis, as does Marjana Lipovšek as Klytämnestra.
Martin Kušej's stage realization is a little bizarre in its barren sets and modern take on the work, but it is powerfully atmospheric and in the end quite effective. The festive carnival-like dance near the end is ridiculous, but it does not detract significantly from the overall darkness and power of the performance. Neither do the unnecessary nudity and the somewhat punk-like getup of Elektra. Christoph von Dohnányi leads the orchestra with a knowing hand and the sound reproduction is vivid. Another winner.
Last but certainly not least here is the TDK DVD of Rigoletto, probably an even finer production than the two reviewed above – if you can compare apples and oranges. This is a gritty Rigoletto, with Gilda a little less innocent and Rigoletto a bit more villainous. Graham Vick's imaginative sets are somewhat barren but always atmospheric. I like how he makes the Duke's conquered women trophies that revolve along the wall in several scenes, as though they've become part of the Court furniture. The Duke's quarters come across as dark and foreboding, quite in step with the production's grimmer take on this work.
Again, Inva Mula is the female lead and once more she's outstanding. So is Carlos Alvarez in the title role. By the way, has anyone ever discharged such profuse rivers of sweat during a performance? I think not. I'm not sure how Álvarez was able to withstand all that makeup (to emphasize his hideousness) and that hump-backed getup, surely the reason for his excessive sweating. Lucky for us that it, if anything, inspired him to sing with even greater inspiration.
Marcelo Álvarez is convincing as the Duke, doing a splendid La donna é mobile. In just about every respect this is an excellent production then, making it competitive with even the finest Rigolettos of the LP and early-digital era. Much of the credit must go, once more, to the conductor, Jesús López-Cobos, who draws spirited playing from the orchestra and fine singing from the chorus. Camera work and sound reproduction are excellent. All three of these recordings are recommended, with Rigoletto the slightly more compelling of the trio.
Copyright © 2007, Robert Cummings