DVD Review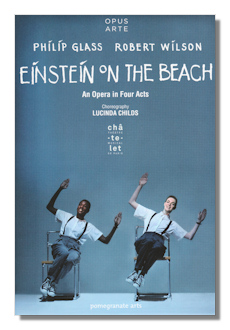 Einstein On The Beach
Helga Davis, Kate Moran: featured performers
Jasper Newell: Boy
Antoine Silverman: Einstein/violin
Charles Williams: Mr Johnson
The Philip Glass Ensemble/Michael Riesman
Opus Arte OA1178D 2DVDs
Philip Glass wrote Einstein On The Beach in 1975 (it was first performed in Avignon the following year) as part of an eventual trilogy exploring the ways in which ideas, rather than force, can effect change – through science, politics and religion. Satyagraha (1979), and Akhenaten (1983) addressed the latter two realms.
The opera in its complete form lasts five hours; it has only been performed three times by the Philip Glass Ensemble. Built around the life of Albert Einstein, it lacks a conventional "plot" or story, the intention being for the audience to make links of their own to elements which reflect and illuminate the "Man of Science". The opera's four acts are separated by "knees"; these are overt interludes which allowed stage hands to change scenery, provide continuity and create a common theme – just as the (human) knee acts as a flexible yet stable articulation between the upper and lower parts of that limb.
This production is the one staged in 2014 at the Théâtre du Châtelet in Paris. Culturebox (on behalf of French Television) streamed it live on January 7 of that year and made the recording available for the next six months thereafter. It was the first time the opera was filmed (for commercial release). Soloists and the Philip Glass Ensemble with the Lucinda Childs Dance Company were conducted by Michael Riesman under the general overall direction of Jean-Luc Choplin.
Glass worked closely with designer Robert Wilson to build on the latter's conception of themes relating to how the physicist's life can be revealed through his work. That collaboration – together with the choreography of Lucinda Childs – underpins this production, as it must really underpin, or at least inform, any staging. It is important to approach the at times enigmatic Einstein On The Beach not as a biography, a document or a theatrical reworking either of Einstein's life and work or his contribution to recent science. More accurately, what Wilson (and Glass) did may better be described, perhaps, as to stage some of the ways in which – had Einstein, his struggles, doubts and achievements been music – this is what they would have looked and sounded like.
Although devoid of a linear set of events, Einstein On The Beach is not an impressionistic work, or in any sense a collage. Rhetoric, controlled movement of the players, the apparent non sequitur and the lack of junction between performers and any sense of character other than perhaps symbolic (Einstein as a boy fascinated by a cube of light near the beginning of the work, for instance) join repetition and bold, "blocky" stage sets to create something more closely resembling Imagism or a neo-Expressionism that exploits formalism and the use of space. These predominate. Not a (psychological) portrait. Just as Wilson famously stared at photographs of Einstein as he structured his design, so Glass kept Wilson's sketches in front of him as he (apparently sequentially) turned each scene into music. An analog of the composer's wish that the audience, too, makes its own connections.
So an accomplished visual "record" of the opera as this one can only enhance our appreciation of it. It is a positive addition for those who owned the original audio on the Tomato label from the early 1980s if for no other reason than that the DVDs under consideration here are of Glass's full score; other CDs of Einstein On The Beach are also either expensive or hard to source. Opus Arte has brought high resolution stereo and a real sense of the definite structure on which the work rests, which means that this release must now be considered a first choice.
This also has the happy side-effect of suggesting that Einstein On The Beach need not date – despite its origins in a specific collaboration – that between Glass, Wilson and Childs. The camera work has been handled in such a way as to suggest that such idiosyncratic passages as the repetition of numbers, fragments or prose and narrative ("I was in this prematurely air-conditioned supermarket" being iconic) are not random (the lens might have been a longer one, or moved more if they had been) but can be understood in the same way as Einstein's physics can if we are prepared to ditch some preconceptions.
In keeping with the usual style of Opus Arte, this DVD set is less of a film record of any one performance than an audio-visual presentation of the work. It enters into its spirit and makes it visually interesting without gimmicks… the opening scene is both seen and heard as members of the audience at the Théâtre du Châtelet make their way to the venue and take their seats. (So long is the opera as written that the original stagers expected (so allowed) them to come and go if necessary.) This honors another aspect of the opera; as do the minimal, slight actions and movements of the two principal performers… they play imaginary keyboards, for example, on desks in front of them; while the chorus manages imaginary steering wheels during the "transport" sequences; and throughout interpersonal gestures are emphasized often in slow motion or even "freeze-frame" style – perhaps to suggest or evoke particles colliding? The big screen downstage is used judiciously to project selected images which add to our sense of how Glass and Wilson want us to understand Einstein and his personal, scientific and cultural (he loved the violin, of course) worlds.
All of this adds a sense of occasion very successfully – in the same way as a color scheme (a range of light to medium sky, powder and metallic blues) does to a stage set – yet focuses our attention on the music. This is perhaps so successful in the case of Einstein On The Beach because it was something of an anomalous work and its use of repetition (iconic for the emergent defintion of "minimalism" at the time when Glass began to be known in the early 1980s) struck many listeners as unusual. Yet the director of this DVD lets us slide from the practical (the business of attending a performance) into the production, where movement and the relationships between what every performer and group of performers (song, spoken word, semi-rhetorical recitation, dance, chant and so on) had to offer. It would not be altogether too fanciful to suggest that this evokes Einstein's great achievements in relating what was previously thought could not be related.
As said, the sound quality is excellent. The menuing of the DVD is simple but effective. The DVD is presented on two disks in a simple but effective (also blue-themed) hardback book/pack with brief notes about Einstein On The Beach and those involved in its conception and stagings. Quotes by these artists illuminate and illustrate the work's context in twentieth century opera. The extract of the interview with Glass by Marjory Arent Safir in "Robert Wilson from Within" [ISBN-10: 9782953823707, ISBN-13: 978-2953823707] describing the influences of the New York avant garde in the 1970s is particularly useful. By Glass's own admission "… it was a world inhabited by extremely brilliant people…". So it almost behoves a director neither to dilute nor to over-promote a work like this which so obviously relies on interactivity.
Opus Arte has produced just such a reference recording. It accurately reflects Glass's intentions. Glass enthusiasts will want this clever and yet restrained account on film. Such an intelligently theatrically-staged performance as this can be highly effective not only in illustrating how Glass and Wilson conceived the tableaus, but also in elevating the impact of the music itself when presented in sequence. Those familiar with the audio recordings such as that on CBS Masterworks/Elektra (79323) may be unaware of this; and so will find this a satisfying version indeed. Recommended.
Copyright © 2017, Mark Sealey