DVD Review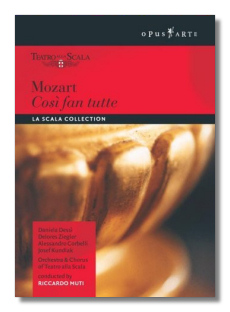 Così fan tutte
Daniela Dessì (Fiordiligi)
Delores Ziegler (Dorabella)
Jozef Kundlak (Ferrando)
Alessandro Corbelli (Guglielmo)
Adelina Scarabelli (Despina)
Claudio Desderi (Don Alfonso)
Orchestra & Chorus of Teatro alla Scala/Riccardo Muti
Opus Arte DVD OALS3006D 187min Full Screen Dolby Digital Stereo
This Così is staged traditionally, without any of the updatings favored by Peter Sellars and Doris Dörrie, among others. The sisters are well-mannered young ladies in a comfortable financial position, not stewardesses, and their lovers are officers in the military, not businessmen! Mauro Pagano's set beautifully captures the length of the day on the shores of the Mediterranean, from morning, as Ferrando and Guglielmo swear to the faithfulness of their lovers, to the late evening, as the deceptions are revealed and a happy (?) ending is reached. (Stage director Michale Hampe doesn't make it quite clear whether the lovers end up in their original or revised pairings.) The only feature of the staging I didn't like was a bottle of wine and a bag of coins, which remain front and center for the length of the opera. These represent Ferrando's and Guglielmo's wager with Don Alfonso, and keeping them on stage during every scene is heavy-handed.
This production dates from April 1989, and it was taped in performance. The majority of the cast members are Italian, and that keeps both the music and the mood light. I've been waiting to hear soprano Daniela Dessì in a role that suits her – her Aïda, Adriana Lecouvreur, and Tosca all have left me unconvinced – and it is a pleasure to report that her Fiordiligi is gorgeously sung and perceptively acted. Both "Come scoglio" and "Per pietà" are highlights of this performance. Ziegler's darker voice and more playful personality complement Dessì excellently. As Despina, Adriana Scarabelli really steals the show. She is adorable and funny, but not overdone, and the two officers should be fighting over her, not their silly sweethearts. Turning to the men, Kundlak's Ferrando is bright and metallic – more appropriate for Rossini than for Mozart – but he has the breath control needed to bring off "Un' aura amorosa." Alessandro Corbelli, dark-haired, shorter, and more aggressive, contributes an excellent "Donne mie, la fate a tanti." As the cynical philosopher Don Alfonso, Claudio Desderi mixes buffo know-how with genuine bitterness – look at him at the start of the opera singing "È la fede delle femmine" and you'll know that this is a man who has been burned beyond healing by at least one woman.
As is usual in the theater, this performance is not note-complete. Muti omits the little goodbye duet that the officers sing in Act One, and Ferrando's "Ah, lo veggio" from Act Two. True to form, Muti conducts with drive, but with sensitivity to the score's seriousness, as well as to its comedy.
The videography is well done. No seat in La Scala would allow an audience member to know the characters this well, and yet the stage-picture as a whole is not forgotten. A 4:3 aspect ratio is used, and English subtitles (if desired) appear discreetly at the bottom of the screen. There are no special features, but this is a well-filled DVD; other DVD versions of this opera use two discs, so there's little cause to complain.
If you're looking for a traditional Così with modern instruments, this production is an excellent choice.
Copyright © 2004, Raymond Tuttle