DVD Review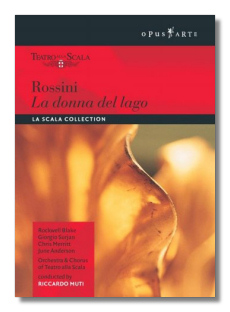 La donna del lago
June Anderson (Elena)
Rockwell Blake (Giacomo V/Uberto)
Chris Merritt (Rodrigo)
Martine Dupuy (Malcolm)
Giorgio Surjan (Douglas)
Orchestra & Chorus of La Scala, Milan/Riccardo Muti
Opus Arte DVD OALS3009D 167min 4:3 fullscreen Dolby Digital 2.0
Based on Sir Walter Scott's The Lady of the Lake, La donna del lago had not been given at La Scala in some 150 years until this production from 1992. It contains much fine music, but most of it is concentrated in the second of two acts. The first act lasts 100 minutes, and its drama is relatively static, so it is easy to understand why the opera has not achieved the popularity of other operas by Rossini. In brief, Elena is the daughter of Douglas, the head of a clan in feudal Scotland. (Douglas was banished for plotting against Scotland's King James V.) Elena loves Malcolm, an outsider, but Douglas wants her to marry Rodrigo instead. In the meantime, James, disguised as Uberto, has fallen in love with Elena. The opera essentially concerns the disentangling of the three rival love interests, against a background of insurrection. All ends happily, with James pardoning Elena and her father, and blessing her union with Malcolm. Elena's happy confusion at this climactic turn of events causes her to sing the score's most famous number, the Rondo Finale "Tanti affetti in tal momento." Rossini liked this brilliant showpiece – not dissimilar to the equivalent number in La Cenerentola – so much that he transplanted it to at least one other opera: the Venetian revision of Maometto II.
La Scala brought in German film director Werner Herzog to stage this new production. It's not a clumsy staging, but it can hardly be said that Herzog brings anything terribly illuminating to the opera. He does little to spice up the long first act. Chris Merritt and Rockwell Blake are the dueling tenors, if you will, and the elegant and appealing Blake, in his La Scala debut, pretty much mops up the stage with the strained, stolid, and ungainly Merritt. Malcolm is trouser role, and it needs someone like Marilyn Horne to make it come alive. Martine Dupuy is no Horne. She sings creditably though, and even copes with the costume designer's idea that Malcolm should look like Davy Crockett. (James, in his disguise as Uberto, spends the first act with a dead bird on his head.) June Anderson is up to the title role's challenges. Her voice is silvery, and she can spin it out endlessly; the finale is a real delight. Anderson's stage and vocal personality is cool, however, and her frumpy costuming just adds to the impression of blandness. Giorgio Surjan does well in the unsympathetic role of Douglas. The orchestra and the chorus are adequately prepared. Muti is in a restrained mood, as he might well have been – Rossini didn't even write an overture to this opera! The sets are craggy, and one might suppose that the feudal clans of Scotland were cave-dwellers.
As with the other DVDs in Opus Arte's series from La Scala, the sound (Dolby Digital Stereo) and the picture (4:3 fullscreen) are more than adequate. The English subtitles are good. The booklet contains a full Italian text, if you need one.
Copyright © 2005, Raymond Tuttle