Blu-ray Review
Ludwig Minkus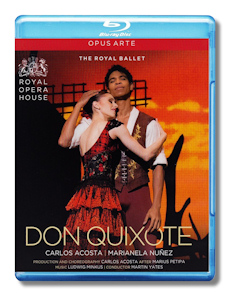 Don Quixote
Marianela Núñez - Kitri
Carlos Acosta - Basilio
Christopher Saunders - Don Quixote
Philip Mosley - Sancho Panza
Ryoichi Hirano - Espada
Melissa Hamilton - The Queen of the Dryads
The Royal Ballet
Orchestra of the Royal Opera House/Martin Yates
Production & choreography by Carlos Acosta
Opus Arte Blu-ray OABD7143D 125m (+12m features) LPCM Stereo DTS-HD Master Audio
The classic ballet Don Quixote, created in 1869 for the Bolshoi in Moscow by Marius Petipa and with music by Ludwig Minkus (Léon Fyodorovich Minkus), has always been the merry playground of choreographers, musicians and arrangers of all sorts. It is danced to this day in its most convincing form by the great Russian companies whose time-honored dedication and savoir-faire has resulted in a complete understanding of the ballet's style and temperament. A 19th-century extravaganza, loosely based on Cervantes, which is now primarily an irresistible feel-good cocktail of sunny locations, some slapstick comedy and of course loads of supreme classical and character dancing.
London's Royal Ballet, however, has a rather unhappy relationship with Don Quixote. This is the third attempt in 20 years to bring the ballet to Covent Garden; previous efforts in 1993 and 2001 were expensive but essentially wrongheaded productions, deservedly forgotten as quickly as they came. A major problem was that the pseudo-Hispanic machismo and spicy bravura dancing required for Don Quixote seemed as alien to the British manner as speaking French; another was that the producers forgot the simple rule of if it ain't broke, don't fix it – let alone try to do better.
Last year, principal dancer Cuban-born Carlos Acosta supervised a new staging for the Royal Ballet – and there's no way to miss it is his: "Carlos Acosta's Don Quixote" (thank you, Marius Petipa and Alexander Gorsky, who seems totally forgotten, but who remains no less the key figure in this or any other Don Quixote we know today.) Alas, Acosta too, fell into the very same trap. Here's again a production for which no efforts or money were spared, but looks like a tortilla that has been far too long in the oven.
The flavor of Don Quixote still eludes the Royal Ballet. The only exception is Carlos Acosta himself, who has a career-long connection with the ballet. Yet the remainder of the cast, including the otherwise magnificent Marianela Núñez as Kitri, looks like they are in the wrong piece. The overall atmosphere is too serious and often determinedly anecdotal at the expense of the central plot. The opening town square scene with all the extras oh so busy in building character is more reminiscent of William Powell-Frith's Derby Day than Cervantes's La Mancha (and can somebody tell these annoying street urchins to leave the stage).
The production was lavishly designed by Tim Hatley, who had so far mainly been active in musicals like Spamalot and Shrek. In spite of some worrying color schemes his costumes are agreeable. Hatley also thinks sunny Barcelona needs to be clouded and equipped with gliding houses, while his canopy of oversized wallpaper flowers turns the dancers into tiny insects during the Dream scene. Worse is conductor Martin Yates's fearful re-orchestration of the score. Poor Minkus who was a tremendously skilled craftsman and who wrote in his long career more ballet music than anyone of us could ever remember, gets another beating beyond recognition. Why they still need to tinker with his music is one of the great mysteries of ballet – he is no Tchaikovsky, it is often retorted, as if that justifies sucking the life out of his score as happened here. Don't be surprised to hear bits from other ballets suddenly appear (as La Bayadère, another Minkus ballet). It has been standard practice in ballet and continues to be so.
Acosta in an effort to give the ballet a "21st-century look and feel" (whatever that may be considering the context) naturally had to leave his mark on the choreography and mise-en-scene. He confidently talks about breaking the limitations of classicism (why bother with a ballet like Don Quixote then?), though ballet lovers may rest assured that the basic text and all familiar numbers remain intact, and there isn't a hint of originality or novelty in sight – contrary to Alexei Ratmansky's exemplary recent staging of the ballet for Dutch National. Bottom line is, that all this has been done before, and danced and produced a whole lot better.
The Opus Arte Blu-ray is impressive in all respects. Directed by veteran Ross MacGibbon, the filming leaves little to be desired, while the HD widescreen image and sound are all first-rate. Short interviews with Acosta, some of the dancers and producers are available as an extra, as well as a needless cast gallery.
The Royal Ballet is a magnificent company, let there be no doubt, with a greatly varied repertoire and wonderful dancers. Yet for a ballet like Don Quixote they still hadn't found a place yet, and it doesn't look it's going to happen with this third attempt. It just isn't their cup of tea.
Copyright © 2014, Marc Haegeman