CD Review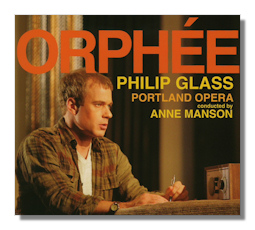 Orphée
Georgia Jarman, soprano (Eurydice)
Lisa Saffer, soprano (La Princesse)
Daryl Freedman, mezzo soprano (Aglaonice)
Steven Brennfleck, tenor (Cégeste)
Carl Halvorson, tenor (Reporter)
Ryan MacPherson, tenor (Heurtebise)
Philip Cutlip, baritone (Orphée)
José Rubio, baritone (Policeman)
Jeffrey G. Beruan, bass (Poet)
Konstantin Kvach, bass (Judge)
Marc Acito (Glazier)
Ron Brallier (Le Commissaire)
Mikhail Hallak (Radio Announcer)
Portland Opera Orchestra & Chorus/Anne Manson
Orange Mountain OMM0068
The two-act opera, Orphée, is the first (1993) in American composer, Philip Glass' (born 1937), Cocteau Trilogy. Indeed, it's in and of the same sound world as La Belle et la B&ecurc;te (from 1994; Les Enfants Terribles (1996) is the third) and many of that work's characteristics – insistent rhythms, sustained arpeggios, down-to-earth dialog, references to the world in which we live now (there are motorcycles, bells, morse code, whistles and cries for example) – can be found in Orphée too.
Orphée is a twentieth century retelling of the Orpheus myth, of course; and as such is also an analog of the life of an artist, a poet, a misunderstood and somewhat hounded one. He is successful, which his community resents. The result: isolation. He loses his creativity, but regains it on greater understanding of his mortality. It's a freeing experience, which takes place amid typically staccato interactions between Orphée and Cégeste, Euridice, and a mysterious Princess, who – because she has fallen foul of the accepted rules by which their life is played – seems to lose much. But Orphée and Euridice are saved and united in the end.
The Orange Mountain Music label here presents the world première recording performed by soloists and the Portland Opera Orchestra conducted by Anne Manson. It was recorded in a series of live performances that took place in November 2009. The libretto is in French. There is variety in Glass' music. More, in fact, than in other earlier "minimalist" works of his. The melodic lines twist and turn and pursue more conventionally developmental paths than, say, Glass' earlier trilogy, Einstein on the Beach, Satyagraha and Akhenaten.
The singers, in particular, perform with conviction and vigor. They also have a dignified detachment as befits Cocteau's idiom. The interaction falls just short of being stylized; the nature of the dialog sees to that. But there is conviction and musical rigor for all the tenor of colloquialism with which this updating of a timeless theme is shot through.
Their expert delivery (supported by a very competent Portland Opera Orchestra and Chorus) helps to make our experience of what could otherwise fall between the formalism of the Orpheus myth and the familiar and "everyday" language in this version as persuasive as is right for a work of this tone, and length – at not much over an hour and a half.
The recording is close; it lacks atmosphere to some extent, although every word is audible. The experience benefits from the directness and focus of the performers; their delivery is not without emotion. The booklets (one for each act) are minimal. They contain little more than the libretto in rather confusing interleaved French (in "book" font weight) and English (in bold). At the back of the second booklet come brief biographies of the performers; though next to nothing about the production, or the (origins and purposes of) Glass' work as such. This is a pity: it's the only recording of the work; and one you must have regardless, if you're a Glass devotee.
Copyright © 2010 by Mark Sealey.