CD Review
Great Pianists of the 20th Century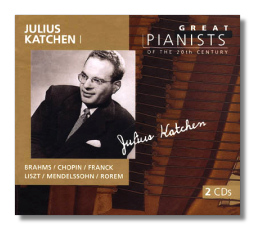 Volume 53 - Julius Katchen I
Mili Balakirev: Islamey
Sonata for Piano in F minor, Op. 5
Variations on an original theme
Hungarian Dances Volume 1
Ballade #3 in A Flat Major, Op. 47
Fantasy in F minor, Op. 49
César Franck: Prélude, Choral and Fugue
Franz Liszt: Hungarian Rhapsody #12
Prélude and Fugue in E minor, Op. 35 #1
Rondo capriccioso in E Major, Op. 14
Ned Rorem: Sonata for Piano #2
Julius Katchen, piano
Philips 456856-2 ADD partly monaural 2CDs: 78:32, 79:58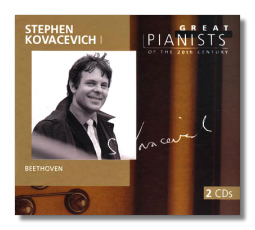 Volume 60 - Stephen Kovacevich I
Sonata for Piano #8 in C minor, Op. 13 "Pathétique"
Sonata for Piano #17 in D minor, Op. 31 #2 "Tempest"
Sonata for Piano #18 in E Flat, Op. 31 #3
Sonata for Piano #28 in A Major, Op. 101
Sonata for Piano #30 in E Major, Op. 109
Sonata for Piano #31 in A Flat Major, Op. 110
Sonata for Piano #32 in C minor, Op. 111
Stephen Kovacevich, piano
Philips 456877-2 ADD 2CDs: 75:00, 77:10
Philips Classics recently released the first volumes in its Great Pianists of the 20th Century series. This series, which will be comprised of 100 2-CD sets when it is completed, will comprehensively review the accomplishments of almost seventy pianists, from Géza Anda to Krystian Zimerman. The series is released in cooperation with Steinway & Sons, and all of the major international record companies have agreed to license recordings that otherwise would have been unavailable to Philips.
Julius Katchen's career ended prematurely when cancer claimed him at age 42. In the brief time that was available to him, he become known as a superior interpreter of Brahms' piano music. (The complete solo piano works can be heard on London/Decca 455 247-2.) Interestingly, he was the first pianist to be heard on a solo LP (the Brahms Sonata for Piano included here), and also the first to be heard on a concerto LP (Rachmaninoff's Second, with conductor Anatole Fistoulari.)
Katchen's first teachers were his musically gifted grandparents, and he also studied with David Saperton. He was playing concertos with the Philadelphia Orchestra and the New York Philharmonic before he was a teenager. An intellectual young man, Katchen received degrees in English literature and philosophy from Haverford College before he was twenty. As with Stephen Kovacevich (below), Europe, rather than his native America, was his center of professional activity.
He was a supreme technician – a thinking man's virtuoso, if you will. His recording of Balakirev's Islamey, a work acknowledged as nearly unplayable, makes it sound like a bagatelle
… albeit a bagatelle with teeth. Liszt's Hungarian Rhapsody struts and leaps impressively, and Katchen's recording captures every nuance, as well as the extremes, of the Magyar soul. In Brahms' Hungarian Dance #4, the pianist does something I've never heard before: he evokes the real sound of a gypsy orchestra. The swirling figures in the right hand are treated as background, and the stomping melody is in the foreground, and the effect is so authentic that one would never guess that Katchen was born in New Jersey. In the more serious works, Katchen displays his architectural talents. His Brahms is full but never overstuffed, and he ensures that the German master's thick textures never obscure the music. I also found his Chopin and Franck to be most persuasive. The Rorem is a delightful novelty (to me, anyway). It sounds as if it were by Francis Poulenc – no wonder, it was written by an American in Paris – and Katchen plays it with Gallic wit, which is quite unexpected, following Brahms.
These are two well filled CDs; the second is just two seconds shy of 80 minutes. The sound is less good. The early Decca piano LPs could sound harsh, and that fault has not been avoided in several of these recordings.
Stephen Kovacevich used to be known as Stephen Bishop, then briefly as Stephen Bishop-Kovacevich. I've never heard an explanation for this, and Philips doesn't offer one in their volume devoted to this great American pianist, the first of two volumes planned for the "Great Pianists" series.
Kovacevich was born in California in 1940, and studied with Lev Schorr and Dame Myra Hess. Receiving his tutelage from the latter meant that he reached his musical maturity in London, and not at any of the American music schools such as Juilliard. As a result of this, and a famous Wigmore Hall debut in 1961, he became a de facto European musician, and it wasn't until 1967 that he made his New York debut. Highlights of his career include partnering Jacqueline Du Pré in Beethoven's Cello Sonatas, a concerto written for him by Richard Rodney Bennett, a "second career" as a conductor, and numerous recordings for EMI and Philips. His specialties are Mozart, Schubert, and Beethoven.
This release makes me wonder why, unless I am mistaken, Philips did not record him in all of Beethoven's sonatas – could it have been internal competition from Claudio Arrau and Alfred Brendel? This is some of the most impressive Beethoven playing anywhere. With respect to Kovacevich's pianism, Philips's commentator writes about the "knife edge between abandon and control," and the phrase is well-chosen. Try the opening of the last sonata, where Kovacevich is like a thundering god, or the second movement's variations, which sweep along not in philosophical contemplation but in sensual rapture. On the second disc particularly, this is almost string-busting playing. I don't mean to suggest, however, that Kovacevich is an insensitive pounder. On the contrary: he is giving Beethoven's proto-Romantic effusions their full due, and through Kovacevich's pianism, one can really feel how the composer was trying to extend the instrument.
Philips made an excellent choice selecting repertoire here. One mark against them is the fact that the "Hunt" Sonata is split between the two discs. I assume this was done so the set could include seven, not six sonatas, but the split interrupts the continuity of the "Hunt." No complaints about the recordings themselves, however. They come from 1971, 1973, and 1978, and the analog sound is of the sort rarely surpassed by digital. Get this set!
Copyright © 1999, Raymond Tuttle