CD Review
Kashchey the Immortal
Konstatin Pluzhnikov (Kashchey)
Marina Shaguch (The Princess)
Larissa Diadkova (Kashcheyevna)
Alexander Gergalov (Prince Ivan Korolevich)
Alexander Morozov (The Storm Knight)
Kirov Orchestra & Chorus/Valery Gergiev
Philips Classics 446704-2 DDD 63:53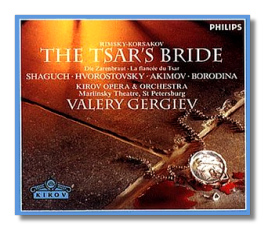 The Tsar's Bride
Marina Shaguch (Marfa)
Dmitri Hvorostovsky (Gryaznoy)
Evgeny Akimov (Lykov)
Olga Borodina (Lyubasha)
Kirov Orchestra & Chorus/Valery Gergiev
Philips Classics 462618-2 DDD 2CDs 78:16, 70:01
Rimsky's one-acter Kashchey the Immortal is based on a Russian fairy-tale. Kashchey, an evil magician of sorts, is keeping a beautiful Princess imprisoned in his gloomy and autumnal land. He will remain immortal as long as his daughter, the witch Kashcheyevna (literally "daughter of Kashchey"), holds back her tears – his death is "kept" within them. Elsewhere, Kashcheyevna has lured the Princess' beloved, Prince Ivan Korolevich, to her abode, where she bewitches him with her beauty and gives him a sleeping potion. She then tries to kill him, as she has done with many men before (shades of Turandot), but his beauty stays her sword three times. The Prince is awakened by the Storm Knight, Kashchey's messenger, who, wishing ill to his master, carries the Prince back to Kashchey's castle to be reunited with the Princess. Kashcheyevna appears there too and threatens them, saying she will free the Princess only if the Prince stays with Kashcheyevna – she has fallen in love with him. The Princess pleads that she would rather die than be separated from the Prince again, and she kisses Kashcheyevna with tender pity. Moved, Kashcheyevna's tears begin to flow, and her father dies. Springtime floods the stage (in the meantime, Kashcheyevna has turned into a weeping willow), and an offstage chorus sings about the glory of the sun, springtime, freedom, and love. All this, and in little more than an hour!
Rimsky-Korsakov wrote this opera in 1901, and it shows the influence of late-period Wagner in its use of leitmotifs and its continued movement away from set-pieces. A handful of themes representing characters and emotions is all that he used to build this score, which nevertheless sounds very rich. Some of its highlights include a blizzard scene (with self-playing guslis), love music for the reunited Prince and Princess, and the splendid finale. It all goes by in a flash, however, as it must, given the amount of plot to be covered!
Kashchey is sung by a character tenor, and Konstantin Pluzhnikov eats this role up with his wonderfully hammy portrayal. He doesn't take these goings-on too seriously, and this light touch makes the entire recording glow. Marina Shaguch's limpid soprano voice makes her a fairy-tale Princess, and it is effectively contrasted with the rich alto of Larissa Diadkova. The two Alexanders, Gergalov and Morozov, provide a strong (but not overly contrasted) masculine presence. As always, Gergiev works magic on this music, leading one to wonder why it hasn't been heard more often. (Even in Russia, Kashchey the Immortal is one of Rimsky's more obscure titles.) The recording was made in 1995, and it complements the varied colors of this fascinating score.
The Tsar's Bride was first performed at the end of 1899, and it although it is only two years older than Kashchey, it is significantly more old-fashioned. The pace is more leisurely, with as much emphasis on beautiful singing as on advancement of the drama. Also, the music is more sectional, with clearly defined arias, ensemble pieces, and choruses. While Kashchey is like an electric current, The Tsar's Bride is like a long, warm bath, and it requires more patience to appreciate it.
This is not a fairy-tale, but a historical opera, although the history is heavily embellished. Marfa, whom the opera is named after, is the innocent daughter of Sobakin, a merchant. She is happily engaged to Ivan Sergeyevich Lykov. However, she also has attracted the attention of Grigory Grigoryevich Gryaznoy, an oprichnik (a bodyguard serving Ivan the Terrible). Having been rejected by her, Gryaznoy has a love potion made which will make Marfa fall in love with him. Lyubasha, Gryaznoy's former mistress, is jealous, and switches the love potion with a drug that will make Marfa lose her beauty and waste away. The plot twist is that Ivan the Terrible (who never sings in this opera) decides at the end of Act III that he wants Marfa as his wife. The combination of this bad news and the noxious potion make her faint away, and when she regains consciousness, she has lost her mind. (Cue for a traditional operatic mad scene.) An aged courtier remarks, "Tsar Ivan, you have no luck with your wives." The final curtain comes down with Marfa still mad, Lyubasha stabbed, Lykov executed on false charges, and Gryaznoy begging for a punishment worse than that suffered by sinners in hell. In other words, this was a bad day in Ivan the Terrible's court.
The vocal standout on this recording is baritone Dmitri Hvorostovsky. He owns one of the most beautiful baritone voices around today, and he is likeable whenever he opens his mouth. As a result, his Gryaznoy seems like less of a villain than he could be, and more a victim of circumstances, as well as of his own passions. Once again, Marina Shugach sings sweetly, although a stronger personality would have thrown her character into higher relief. The darker-voiced Olga Borodina is more vivid as Lyubasha. Marfa's beloved Lykov is sung by Evgeny Akimov, a tenor who moves around easily on and above the stave, but who doesn't always find the best intonation. The smaller parts are done strongly, for the most part, as is only fitting, given that this recording is associated with the Kirov. In this opera, I do think that Gergiev could have moved matters along more snappily. Nevertheless, he succeeds at making The Tsar's Bride into a viable dramatic experience. The 1998 recording is more intimate than spectacular.
At the moment, no other commercial recordings of these works seem to be available, and it is unlikely that someone else will surpass these Kirov recordings soon. My only other caveat concerns the librettos: the Russian texts are given in Cyrillic, which is not helpful to those who do not read Russian, and those who read Russian do not need the librettos! Transliterations, please.
Copyright © 2000, Raymond Tuttle