Related Links
Recommended Links

Site News
DVD Review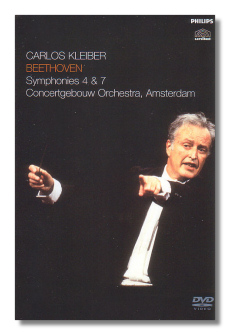 Symphony #4 in B Flat Major, Op. 60
Symphony #7 in A Major, Op. 92
Concertgebouw Orchestra/Carlos Kleiber
Philips DVD 070100-9 NTSC 72m DTS
The art of conducting was certainly imbued in Carlos Kleiber's whole persona and these magnificent performances of Beethoven's Fourth and Seventh symphonies find him on home ground with the excellent Concertgebouw Orchestra. Recorded in 1983, these concerts are a final testament to the art of great symphonic conducting and should definitely be in every serious music lover's collection.
Kleiber makes the most out of the Fourth's slow introduction but his incandescent bouts of energy then really put the music onto a different level in the scherzo and finale. The quality of the film is rather excellent even though it dates back to 1983 and the DTS sound certainly adds lustre and clarity to proceedings.
The Seventh Symphony has always been a Kleiber speciality and his justly famed recording with the Vienna Philharmonic remains the prime recommendation for this work. In this DVD performance, Kleiber demonstrates the ebb and flow of the music with minimal movements and his conducting in the Allegretto is truly a miracle of unforced motion. The Finale is also amazing in its thrust and drive, reminiscent of Karajan and his legendary 1962 recording but I would plump for Kleiber and the Dutch orchestra who are both on splendid form.
I've already indicated that these are top class performances on all counts and they are recorded in splendid sound. The picture also dates well for 1983 and lovers of great conducting will certainly want these performances by a unique master of the podium for posterity.
Copyright © 2005, Gerald Fenech