Related Links
Recommended Links

Site News
CD Review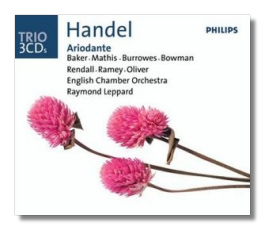 Ariodante
An Opera in Three Acts
Dame Janet Baker (Ariodante)
Edith Mathis (Ginevra)
Norma Burrowes (Dalinda)
James Bowman (Polinesso)
David Rendall (Lurcanio)
Samuel Ramey (Il Re di Scozia)
London Voices
English Chamber Orchestra/Raymond Leppard
Philips 473955-2 ADD 3CDs: 72:38, 66:29, 62:22
Handel's immensely important contribution to the operatic genre has always been acknowledged so it is very good to see this star-studded recording from the mid-seventies back in the field.
'Ariodante' is one of the more enjoyable of the composer's operas with some fine orchestral music, memorable arias and a fair choral share of proceedings. We have obviously moved on a bit since Leppard's recording but the opera is played with great zest and enthusiasm that occasionally belies the period instrument school which is so dominating these days.
The well priced set can boast of an immeasurably strong cast with the mercurial Janet Baker and Edith Mathis taking the leading roles and I doubt if the recent set on DG with Minkowski is preferable in this regard although Anne Sofie von Otter is a formidable competitor.
Absence of libretto may tip the scales for some but I can't help feeling that is a real bargain on almost all counts.
Copyright © 2003, Gerald Fenech