CD Review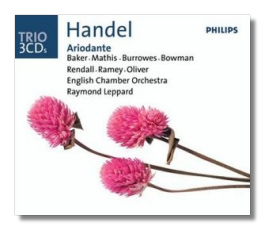 Ariodante
An Opera in Three Acts
Dame Janet Baker (Ariodante)
Edith Mathis (Ginevra)
Norma Burrowes (Dalinda)
James Bowman (Polinesso)
David Rendall (Lurcanio)
Samuel Ramey (Il Re di Scozia)
London Voices
English Chamber Orchestra/Raymond Leppard
Philips 473955-2 ADD 3CDs: 72:38, 66:29, 62:22
Handel arrived in London in 1711, and wrote a total of thirty-six operas during his tenure in that city. Ariodante, one of the best, was premièred in 1735, when the composer, recently released from his unsuccessful contract with the King's Theatre, was taken up by Covent Garden. With the equally accomplished Alcina, Ariodante was the first Handel opera to be performed at Covent Garden – an institution still very much with us in the year 2003.
Based on Ariosto's Orlando Furioso, Ariodante is a rather Shakespearean tale of jealousy, assumed identities, and vindication. All's well that ends well, and this morality tale dressed as an opera ends with Ginevra, daughter of the King of Scotland, reunited with Prince Ariodante, who has been reassured of her faithfulness. True love and constancy have been rewarded, and the wicked punished.
At its première, the title role was sung by the castrato Signor Carestini. Polinesso, Ginevra's other suitor, was sung by a female alto, one Signora Negri. For this recording, taped in 1978, Raymond Leppard gave the castrato role to mezzo-soprano Dame Janet Baker, and the alto role to countertenor James Bowman. The latter decision makes more sense dramatically than vocally; the gender is correct, but Bowman's voice is too white and hooty. (Today, David Daniels probably would be an effective Polinesso.)
At 210 minutes, Ariodante challenges live audiences, but it is ideally suited to home listening. The score has a few famous scenes and arias (Ariodante's "Scherza infida" in Act Two, and "Dopo notte" in Act Three; a ballet representing Ginevra's troubled dreams in Act Two), but the music throughout is among Handel's best. At least to my ears, it sounds a little old-fashioned, as if Handel were tipping his wig to Purcell, who had died in 1695.
Leppard's Ariodante, like most of his recordings from this period, uses modern instruments and performance practices, but still remains close to Handel's spirit. (Listeners who want period instruments should investigate Minkowski on Deutsche Grammophon Archiv or McGegan on Harmonia Mundi.) Baker is stunning in the title role, and Mathis and Burrowes sing with sweetness and impressive mastery, although there is too little contrast between the two. It is also worth mentioning Samuel Ramey in the role of Ginevra's father. He was quite young when this recording was made, but he still has the authority to be an effective King of Scotland.
Kudos to Universal Classics for bringing this set back, particularly in its budget "Trio" series. Boos and hisses, though, for not supplying a libretto. The booklet contains an essay by conductor/musicologist Jane Glover, and a track-by-track synopsis, but nothing beats understanding every word that is being sung.
Copyright © 2003, Raymond Tuttle