Related Links
Recommended Links

Site News
DVD Review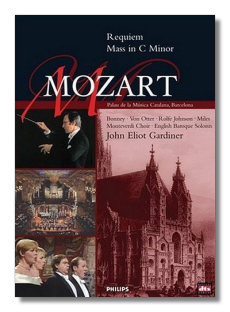 Requiem in D minor, K. 626
Mass in C minor K. 427
Barbara Bonney, soprano
Anne Sofie von Otter, mezzo-soprano
Anthony Rolfe Johnson, tenor
Alastair Miles, bass
The Monteverdi Choir
English Baroque Soloists/John Eliot Gardiner
Philips DVD 0743132 103m
This concert held at the Palau de la Mùsica Catalana in Barcelona way back in December 1991 was a stirring and moving experience indeed. Mounted to commemorate the 200th anniversary of Mozart's death, both performers and audience seemed to be under the composer's spell, and the electrifying atmosphere is still contagious more than 15 years on.
The setting, with its opulent architecture and sumptuous acoustic, is without doubt a major contribution to the success of this project, but what really makes compelling viewing and listening are the profound and soul searching interpretations by Eliot Gardiner, who together with Alois Schmitt completed the K. 427.
The Requiem is here performed in the completed version by Joseph Eybler and Franz X. Süssmayr. It might be pertinent to point out that Eybler was the man chosen by Mozart's wife Constanze to finish the K. 626, but feeling he was unworthy of the commission, he declined to end the task after his first efforts, and so Süssmayr stepped in to terminate it himself.
The four soloists and the Monteverdi Choir were truly in inspired form, and together with the vigorous contribution of the English Baroque Soloists and Eliot Gardiner's charismatic conducting, both pieces are revealed in all their glorious beauty and spiritual profundity. With Mozart's 250th anniversary now in full swing, this DVD will certainly be one of the prime issues of the whole of the current year.
Copyright © 2006, Gerald Fenech