Related Links
Recommended Links

Site News
DVD Review
The Golden Age of the Piano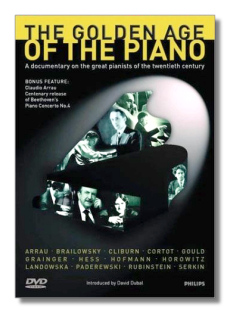 A Documentary on the Great Pianists of the Twentieth Century
Claudio Arrau
Les jeux d'eau à la Villa d'Este
Gnomenreigen
Ballade #2 in B minor
Felix Mendelssohn: Rondo capriccioso
Rudolf Serkin
Ludwig van Beethoven: Sonata in E Flat Major, Op. 81a "Les adieux"
Franz Schubert: Sonata in B Flat Major, D. 960
Vladimir Horowitz
Alexander Scriabin: Etude in D Sharp minor
Glenn Gould
Johann Sebastian Bach: Partita in E minor, BWV 830
Wanda Landowska
Folk Dance
Myra Hess
Ludwig van Beethoven: Sonata in F minor, Op. 57 "Appassionata"
Artur Rubinstein
Felix Mendelssohn: Song without Words, Op. 67 #4 "Spinning Song"
Alexander Brailowsky
Frédéric Chopin: Valse brillante in A Flat Major, Op. 34 #1
Ignacy Jan Paderewski
Paderewski: Minuet in G Major Chopin: Polonaise in A Flat Major, Op. 53
Josef Hofmann
Sergei Rachmaninoff: Prélude in C Sharp minor, Op. 3 #2
Maguire's Kick (Irish folk song)
Alfred Cortot
Claude Debussy: Children's Corner: Serenade for the doll & Golliwog's cake-walk
Van Cliburn
Piotr Ilyitch Tchaikovsky: Piano Concerto #1 in B Flat minor, Op. 23 (Conducted by Kirill Kondrashin)
Ludwig van Beethoven: Sonata in F minor, Op. 57 "Appassionata"
Schumann/Liszt: Widmung
Claudio Arrau with Philadelphia Orchestra/Riccardo Muti
Ludwig van Beethoven: Piano Concerto #4 in G Major, Op. 58 (complete)
Produced, directed and edited by Peter Rosen
Written and narrated by David Dubal
Philips 075092-9 115m NTSC Multiregion DVD
Watching a pianist such as the legendary Paderewski in full flight is one of the most wonderful memories in all music and this splendid DVD is replete with such moments.
David Dubal is a knowledgeable and cultured presenter and he traverses the history of the piano legends with almost enviable facility and clarity. Footage is also of outstandingly high quality throughout especially in the older relays.
I was bowled over by Cliburn in the Tchaikovsky First and was also open mouthed at Glenn Gould's incredible Bach playing. But to single out one pianist for special praise would be indeed very unfair as each of them has a special place in the canon of the great.
The bonus recording of the Beethoven Fourth is Arrau and Muti in splendid harmony and it is a wonderful document of sorts. This is definitely an unmissable DVD for all serious lovers of the piano repertoire.
Copyright © 2003, Gerald Fenech