CD Review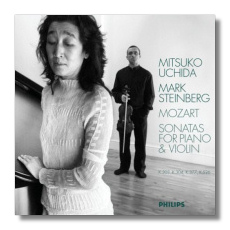 Sonatas for Violin and Piano
Sonata in F Major, K. 377
Sonata in C Major, K. 303
Sonata in E minor, K. 304
Sonata in A Major, K. 526
Mark Steinberg, violin
Mitsuko Uchida, piano
Recorded Snape Maltings Concert Hall, June-July 2004
Released March 2005
Philips 475656-2 69:59
In the past fifteen years, Mitsuko Uchida has become one of the leading Mozart pianists in the world. Her series of recordings of the complete Mozart Piano Sonatas has received great acclaim as have her recordings of all the piano concertos. Personally, I consider Uchida the best Mozart performing artist of her generation; her ability to convey the charm, playful nature, smooth lines, and beauty of Mozart's music is exceptional. In addition, her piano sonata recordings inject an excitement to Mozart's outer movements not found in any alternative recordings.
Uchida's most recent venture into Mozart's sound world consists of a disc of four sonatas for violin and keyboard where she is partnered by the excellent violinist Mark Steinberg. The partnership is outstanding as the dialogue between violin and piano clearly resonates and each performer seems to possess an innate sense of the other's purpose. This is teamwork of the highest order with conversational properties second to none.
Perhaps the most distinctive aspect of the performances is the excitement generated in the Allegro movements. I own many other discs of these works including those from Zimmermann/Lonquich on EMI, Szeryng/Haebler on Philips, and Grumiaux/Klein on Philips as well as period instrument accounts from Banchini/Vesselinova on Harmonia Mundi, Schroder/Orkis on Virgin Classics, and Luca/Bilson on Nonesuch. None of them comes close to projecting the drive and thrilling experience of listening to Steinberg and Uchida. With quicksilver tempos and bold accenting, these two artists offer proof that Mozart is much more than transcendent melody lines and perfect structure.
I certainly don't want to give the impression that excitement constitutes the only supreme reward from the Steinberg/Uchida collaboration, and their performance of the Sonata in E minor, K. 304 is ample evidence that the duo also has a sure grasp on Mozart's angst, despair, and sweet refrains. The two-movement E minor Sonata was composed soon after Mozart's mother passed away, and it is the bleakest work he wrote for violin and piano. The 1st Movement Allegro is angry music that Uchida and Steinberg play with great determination. As good as they are in this movement, it is their 2nd Movement Tempo di menuetto where they astound me with the intense sadness of the first section and glowing optimism and security of the central trio section in the key of E Major. I can feel Mozart's grief and love to the point where I could almost sob, and that is a rare event for this reviewer.
A few words about Mark Steinberg's performance style on the disc. Although he does not play a period violin, his interpretations clearly are a result of paying attention to historically informed performance practices. His tone is lean without any of the thick vibrato so common from modern violins but entirely inappropriate for Mozart's music. I do prefer the pungent tones of the period violin, but listening to Steinberg almost makes me forget the preference.
Any reservations? Just one, and it's my common complaint about piano sound that I refer to as having the "flooded airport hangar effect": too much wet air and reverberation. Uchida is not a United Airlines employee, but the Philips engineers make her push against water and air. Now I was able to make adjustments with my audio controls and trusty equalizer to minimize this effect, but it took quite a few minutes to reach an agreeable balance. Those of you with only bare-bones audio equipment should consider the strong possibility that your system might not be capable of dampening the "wet effect". I should also report that these performances are available in the SACD format where the piano sound might take on different characteristics from those in the CD format.
Don's Conclusions: One of the most rewarding and enjoyable Mozart discs in recent years. Uchida and Steinberg make a wonderful duo conveying superlative dialogue, thrilling Allegros, and the full measure of Mozart's dark side. Although problematic piano sound does detract from the production, the excellence of the music and performances cannot be sullied. For modern instrument accounts of Mozart's Sonatas for Violin and Piano, Steinberg and Uchida go to the head of the class.
Copyright © 2005/2006, Don Satz