CD Review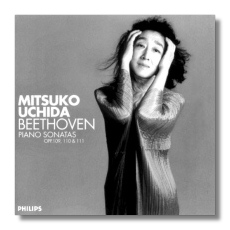 Piano Sonatas
Piano Sonata #30 in E Major, Op. 109
Piano Sonata #31 in A Flat Major, Op. 110
Piano Sonata #32 in C minor, Op. 111
Mitsuko Uchida, piano
Philips 475693-5 DDD 66:50
Beethoven has not played a prominent role in Ms. Uchida's discography; apart from this new release and the five concertos, what else is there? Hearing this CD, one wonders why, because it is truly a masterful piece of work. If this is the beginning of a series of Beethoven sonatas, starting with the last three is rather daring, as these works, with the so-called "Hammerklavier" sonata, are as difficult and inscrutable as Beethoven gets.
I think Uchida's strong credentials as a Mozart player are behind the success of this CD. It's certainly valid to play Beethoven's late music as if he were battering down the door that separated Classicism from Romanticism. Usually, one can't go too wrong with angry, quirky, and volatile Beethoven. Uchida doesn't ignore these sonatas' revolutionary and transformative implications. However, she plays them in such a way as to remind us that Beethoven's late style did not just appear out of nowhere. One can hear Beethoven's Classical roots, if you will, in these readings – and even the music's debts or backwards glances to Mozart and Haydn. Beethoven might have changed musical history, but he never forgot where he came from. Neither does Uchida. There's nothing extreme about her interpretations, yet they are anything but faceless.
Many of Mozart's rhetorical tools continue to be used in these late sonatas, even if Beethoven had modernized them by the 1820s. Indeed, the trill takes on a life of its own in the last sonata. A superb Mozart stylist doesn't necessarily make a first-class Beethoven interpreter, but Uchida, while remaining true to Beethoven, reminds us time and again in these readings why her Mozart recordings from the not so distant past were so head-turning. Her tone is exquisite, particularly in the ethereal closing pages of Op. 111. Everything sings, and there is humor without buffoonery. Her control over dynamics must inspire jealousy in other pianist – try the series of chords that usher in the continuation of the fugue in the last movement of Op. 110. It is the delicacy and poise of these readings that sticks in my mind most tenaciously, yet Uchida is not without strength when it is needed. Only when the music requires the utmost in physical virtuosity does one stop to think about other pianists who left behind memorable recordings of this music. At all other times, Uchida really is in a class by herself.
The engineering gives the piano a big, beefy sound. Uchida herself wrote the intelligent, insightful booklet notes to this release. Richard Avedon's characterful photograph of Ms. Uchida greets us on the cover.
Copyright © 2006, Raymond Tuttle