Related Links
Recommended Links

Site News
CD Review
Sten Melin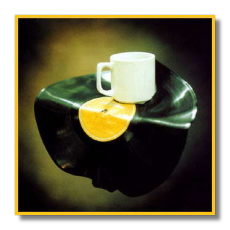 My Cup of Tea
Ce n'est pas possible
Q is Q
The Lamp
Sleepless Odysseus
The land that is not
Källarback variations
Nänns
Hush
Seven Heaven
Fredrik Ullén, Henrik Löwenmark, Love Derwinger, pianos
Anna Lindal, Jeffrey Lee, violins
Torbjörn Helander, Pascal Siffert, violas
Chrichan Larson, cello
Olle Persson, baritone
Urban Eriksson, piccolo trumpet
Maria Alexis, soprano
Magnus Andersson, guitar
Michael Pettersson, flute, piccolo
Ivo Nilsson, didjeridu
Magnus Andersson, ukulele
Jonny Axelsson, percussion
The Stockholm Saxophone Quartet
The Hooligans
The Eric Ericson Chamber Choir/Eric Ericson
Phono Suecia PSCD116 64 mins
Sten Melin (b.1957) is an extrovert trumpeter and composer, confident and even refreshingly brash at times! His Q is Q (1983) was claimed as 'the best string quartet in the world'. It was premièred by the Ardittis and is marked at one point Molto brutale sub. presto possiblile. Melin was involved in music for the anarchic Iacca Ensemble, which featured music of 'maximum expression and minimal content'. This CD reflect the composer's wide musical contacts and in the raucous Seven heaven the group the Hooligans takes part, numbering amongst its members Thomas Jennefelt (composer of the opera Sport & Leisure), composer/virtuoso trombonist Ivo Nilsson on didjeridu and, on ukelele, guitarist Magnus Andersson (appointed artistic director of the Stockholm New Music Festival 2006). There are fine songs of great seriousness interpreted by Olle Persson, Marie Alexis, Frederik Ullen (who has recorded all Ligeti's piano music for BIS), the great Eric Ericson Chamber Choir, and much else. Hush is a marvellous moment of repose for flute and guitar.
An invigorating CD; just one minor criticism for all art editors to note - song text translations should, whenever possible, be printed in parallel and not in separate sections apart from the original. Otherwise, excellent recording and presentation, it nearly goes without saying. A welcome corrective for readers in Europe and USA, who may be tempted to overlook Scandinavian offerings.
The CD art-work, including a sculpture which needed to destroy 'an extremely bad Karajan recording of Mozart's Requiem', is Melin's own.
Full details and tracklists from Swedish Music Information Centre
Copyright © 2005, Peter Grahame Woolf