CD Review
Phoenix USA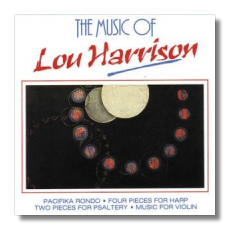 Pacifika Rondo
Four Pieces for Harp
Two Pieces for Psaltery
Music for Violin with Various Instruments
Beverly Bellows, harp
Lou Harrison, psalteries
William Bouton, violin; other musicians
Oakland Youth Orchestra/Robert Hughes
Phoenix USA PHCD118 AAD 49:24

Henry Brant
Kingdom Come
Machinations
Henry Brant, organ and other instruments
Oakland Symphony Orchestra/Gerhard Samuel
Oakland Youth Orchestra/Robert Hughes
Phoenix USA PHCD127 AAD 42:07

Irving Fine
Symphony (1962)
Serious Song: Lament for String Orchestra
Toccata Concertante
Boston Symphony Orchestra/Irving Fine & Erich Leinsdorf
Phoenix USA PHCD106 AAD 43:31
Phoenix USA was founded by Jeffrey Kaufman, who also is the label's president. Its specialty is American music of the present century, although European and South American composers also are represented. Most, if not all, of its releases consist of material licensed from other labels. For example, the Fine CD listed above started life as an RCA Victor LP (LSC-2829). Why RCA would surrender control over this recording is something I can't figure out – it's so good – but their loss is our (and Phoenix's) gain.
I was familiar with only one or two of Phoenix's releases before receiving these three discs. Mr. Kaufman was generous enough to send them in hopes that I would write about the label for Classical Net. It's my pleasure.
Lou Harrison is a national treasure, and it's good to see his music continuing to be appreciated by a small but ever-growing audience. An Argo CD released about a year ago is a good place to start, but the present disc also gives some idea of his work's wide range and common themes. In Pacifika Rondo, which reflects the composer's affection for the Pacific Rim cultures, Harrison transforms the Oakland Youth Orchestra into an ensemble that would not seem out of place accompanying Japanese kabuki dancers or Chinese opera singers. I defy the uninformed listener to guess that this is a Western orchestra. There are references to Mexican music, too, in the fifth movement, which represents the exploits of an Aztec king. Perhaps it is not unusual that an American composer can vary his style so broadly, but it is unusual for one to cherish non-European traditions as much as Harrison does. A quartet of brief works for harp reprises the composer's fascination with Asian music, and this set is succeeded by a pair of works for psalteries, which Harrison plays himself. (A psaltery is an ancient plucked instrument whose timbre is not dissimilar to that of a modern zither.) Finally, Music for Violin with Various Instruments pairs a contemporary violin with reed organ, African thumb piano, and other exotic sounds. Like the other works on this disc, it emphasizes Harrison's multicultural work ethic. The performances are uniformly wonderful, and Phoenix has made this recording, which is more than twenty-five-years-old, sound impressive on CD.
Henry Brant is a somewhat more obscure figure. I had barely heard of him until recently, when I read one of his essays on spatial perception and music. It is one of the touchstones of his mature style to use two or more ensembles in a single work, to separate them vertically or horizontally, and to assign them different musical styles. In other works, the performers walk around the performance space as they play. Needless to say, such experiments, even if they work "live," are difficult to convey on discs, be they LPs or CDs. Nevertheless, one can get an idea of Brant's modus operandi from a work such as Kingdom Come. In it, two orchestras are vertically separated. The ground level orchestra plays angst-filled material; Brant calls it a celebration of "life in the pressure cooker." The balcony orchestra plays music more appropriate for a circus or a slapstick comedy; you'll hear buzzers, bells, the sorts of horns that seals play, and a demented Brünnhilde whooping to beat the band. Needless to say, the two orchestras (which were recorded at different times and mixed together) don't get along at all. Somehow, though, the collision gives the impression of logic and inevitability. For that reason, Kingdom Come reminds me of the complicated orchestral works of Charles Ives, but as played by the Marx Brothers. As for Machinations, Brant calls it "a sort of last warning from the natural world to the human species – a kind of organizational underground meeting of animate and inanimate objects." Multitrack recording has allowed the composer to play all ten instruments in this work. Although he doesn't use electronic sounds per se, he frequently alters the character of the timbres by altering the speed of the tape. The result, at least to me, sounds half teasing and half in earnest. Machinations is best heard as an invigorating but plaintive bath of unusual sounds and unexpected combinations. Performances, I expect, are definitive, and the engineering is honest.
Another American composer whose reputation has been fading into obscurity is Irving Fine. He was a student of Nadia Boulanger and Walter Piston, and a friend and colleague of Aaron Copland. Tragically, he died well before his fiftieth birthday. If he had lived twenty or thirty years more, his fame would have been more general, because he had great things in him, as this CD shows. His music, although very much of this century, is conservative in all the right ways. The Symphony was premièred exactly five months before his death. It's a serial work, but one could hardly tell that from the humanistic manner in which the composer deploys not one but two tone rows. Indeed, this Symphony reminds me of some of the later work of Stravinsky (the Symphony in C or the Symphony in Three Movements, perhaps) in the way that technique is artfully camouflaged by the will to excite and delight. Serious Song: Lament for String Orchestra probably is Fine's best known work – his Barber Adagio, if you will. The Toccata Concertante, which closes the CD, is the earliest work here. Koussevitzky gave its première in 1948. Its neoclassical drive puts me in mind of Harold Shapero's Symphony for Classical Orchestra – another unjustly neglected American work. The Boston Symphony Orchestra sounds glorious throughout, and the sonics, rich and lovely to begin with, are even more impressive on this CD.
Dozens of titles as interesting as these make the Phoenix USA catalogue well worth exploring. My only caveats concerning the present discs are the short playing times (slavish duplication of the LPs, here) and a cavalier attitude toward proofreading booklet text. Information about the entire catalogue can be found at the label's website: http://www.phoenixcd.com.
Copyright © 1999, Raymond Tuttle