CD Review
Phoenix Reissues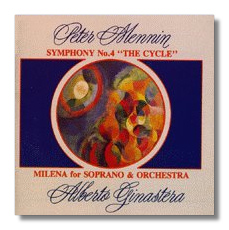 Peter Mennin: Symphony #4 "The Cycle"
Alberto Ginastera: Milena for Soprano and Chorus, Op. 37 1
Camerata Singers and Symphony Orchestra/Abraham Kaplan
1 Phyllis Curtin, soprano
1 Denver Symphony Orchestra/Brian Priestman
Phoenix PHCD107 AAD

Karel Husa
Scenes from The Trojan Women (1980-81) 1
Fantasies for Orchestra (1956) 2
Divertimento for Brass Ensemble and Percussion (1958) 3
1 Brno State Orchestra/Karel Husa
2 Orchestres des Soloistes de Paris/Karel Husa
3 Unspecified Ensemble/Lawrence Sobol
Phoenix PHCD128 ??D

Nicolas Flagello
She Walks in Beauty 1
Capriccio for Cello and Orchestra (1962)
Lautrec: Ballet Suite (1965)
Remembrance (1971) 2
Contemplazioni di Michelangelo (1964) 3
1 Joann Grillo, soprano
2 Maya Randolph, soprano
3 Nancy Tatum, soprano
George Coutzen, cello
Orchestra Sinfonica di Roma/Nicolas Flagello
Phoenix PHCD125 ADD
No information about these reissues is provided in Phoenix's notes, but a little investigation reveals that these Flagello performances first appeared on Serenus Records back in the late 1960's. The Mennin and Ginastera material came out in the 1970's on Desto, a sort of stereophile label, if I remember correctly. The Nocturne from the Husa Fantasies for Orchestra was issued on a CRI (Composers Recordings Incorporated) LP by these same forces in the mid-1970's, and I'll guess the other items by him here reached the market place via that label, as well. All three CDs are significant and should command some notice from among those interested in music from the mid- and late-20th-century.
Perhaps the most important issue here is the Mennin/Ginastera coupling. Lately, I've been coming to believe that Mennin and Diamond are the greatest American symphonists, their chief competition coming from Sessions and Schuman. The choral Fourth Symphony (1947-48) by Mennin, cast in three movements (fast-slow-fast) and lasting about twenty-four minutes, may not quite be on the level of his dark and profound Seventh, for example, but it is still a strong and quite compelling work. It sounds close in its expressive language and mood to the Third, a work which was composed in 1946. Conductor Kaplan elicits a performance from his forces here that is spirited and passionate, the orchestra and chorus both sounding fully committed, with a knowing grasp on Mennin's stormy, austere style. Quite decent sound for its time and texts are given.
The Ginastera Milena (1971) is a darker, less approachable composition, but no less gripping. In fact, it possesses the kind of intensity and desperation in Shostakovich's Fourteenth Symphony, though it shares little of that composer's more palatable gloom, offering instead the kind of bleakness one hears in much of Messiaen's Et Expecto Resurrectionem Mortuorum. Ginastera's Milena depicts the love affair between writer Franz Kafka and a Czech woman, Milena Jessenka, via the former's heartrending letters. The work features a soprano, beautifully sung and acted here by Phyllis Curtin, once an important singer and quite active recording artist, who later turned to teaching and is now vocal director for the Tanglewood Festival. I say "acted" because much of the text is spoken, some delivered in a sort of sprechstimme style. Some listeners may find this piece a bit beyond the reach of their tolerance for dissonance and lack of recognizable melody. To me, it's a great work, seething with tension and drama, exploding with frustrated love and sorrow. The only drawback is that Phoenix offers no texts for the piece. Good sound.
The Flagello and Husa discs are hardly less discographically important. For many, in fact, the former composer will command considerable interest since he is a musical conservative, possessing great skill and imagination; and the latter will intrigue many with his compositional versatility and mixture of influences: Janáček, in the finale of his light and delightful Divertimento for Brass; Bartók and Shostakovich in Fantasies for Orchestra; and hints of American influences in much of the music. The scenes (extracted by the composer) from The Trojan Women whet one's appetite for the whole ballet. This work may prove tough listening for some, but it is surely rewarding in its powerfully atmospheric writing and unrelenting intensity, with exoticism and instrumental color that effectively heighten the anguish of the subject matter. Try the weird Lullaby or the ensuing Death of Astyanax to sample some riveting, apocalyptic music that is starkly evocative and utterly unforgettable. This is a great piece, and best of all, we are treated to the composer's own take on the work, supported ably by the Brno State Orchestra. Sobol's reading of the Divertimento is effective and Husa's account of the Fantasies is, again, probably the nearest thing to definitive the work will see for some time. Excellent sound, too.
The Flagello disc may be equally valuable. Contemplazioni di Michelangelo, with its evocations of Prokofieff in the opening sinister theme to Come puo esser?, and with its allusions to Respighi in the third section, Ben fu, is a most moving and powerful work. Ben doverrieno, the emotional centerpiece here, climaxes in an explosion of ecstatic tragedy. The Cello Capriccio is a dark work of some distinction, and the Lautrec: Ballet Suite has requisite gallic touches and charm. She Walks in Beauty is a brief and touching song, featuring a genuinely memorable melody. Remembrance, a longer song, is also effective and moving in its sadness. Full texts are provided and the sound is adequate, if a bit shrill. Best thing about this CD is that all performances are led by the composer, and if the singers aren't (or weren't) top drawer, they are compelling enough and the Sinfonica di Roma responds well to Flagello's knowing baton.
In sum, all three discs are worthwhile, with the Mennin/Ginastera and Husa (especially The Trojan Women) of considerable artistic merit.
Copyright © 1998, Robert Cummings