CD Review
Johann Christoph Pez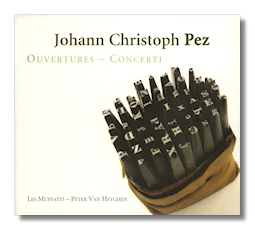 Ouvertures & Concerti
Overture in B Flat Major (R.9)
Concert Sonata in F Major (R.15)
Concerto Grosso, Sinfonia in G minor (R.18)
Sonata Concert simphonia in G Major (R.11)
Ouverture, Pièces pour la Musique de Table in D minor (R.24/D.27)
Concert Pastoral D Major (R.16)
Les Muffatti/Peter van Heyghen
Ramée RAM0705
A rough contemporary of François Couperin and Alessandro Scarlatti, Johann Christoph Pez (1664-1716) is nowhere near so well known. Hardly known at all, in fact – despite a partial edition by Bertha Antonia Wallner in 1928 (nla) together with a 'Life' and introduction to his works. Since then, next to nothing, apart from the odd mention in books such as Wolff's classic Johann Sebastian Bach: The Learned Musician. So it's not surprising that this CD is presented as the rediscovery, revival even, of an unjustly neglected and yet highly worthy composer.
The press release for this disc speaks of 'musical pearls that have remained hidden by the veil of history'. Those pearls are described as great dramatic power, fusion of French and Italian stylistic elements and seemingly inexhaustible melodic inventiveness. Comparisons with Muffat and even Telemann (who placed Pez alongside Handel and Kuhnau, amongst others) are invited. How valid are these descriptions? How special, how accomplished is Pez?
Born in Munich, an early student of the lute and viola da gamba, Pez sang at the Peterskirche, where he became choirmaster in 1687 – at the age of 23. After being appointed to the court of Maximilian Emanuel, he went to study in Rome. That appointment also offered Pez experience in cities in Germany and the Netherlands, where he was exposed to a variety of musical and performance styles. Pez composed many trio sonatas, suites, concerti and one extant opera, Trajano. The influence of other composers is clear: of Torelli in Pez' concerti, for example, and Corelli of course. But it is to be hoped that it's not as some sort of absorber of others' strengths with which this CD of Pez' music will be approached. Rather, that the composer's amazing diversity will strike one on first listening… the B Flat Major ouverture with which it begins, for example, could almost be Lully or Rameau: dotted rhythms and complementary wind with woodwind and variations in tempi which underline the phrasing as ideas develop. Nor is Telemann himself far away. Then Pez' gift for melody and harmony reminds one almost of a somewhat subdued Purcell in places for his compactness and chromaticism. Especially in some of the slow movements and, for example, in the rondeau of that same B Flat Major ouverture and the chaconne of the G minor Concerto Grosso.
But to find parallels and likenesses in the works of other composers isn't enough. Nor should our assessment of Pez depend on the plaudits he received. It need not. The music on this CD is more than merely pleasant and accomplished, stylish and fresh – though it is all of those. The Concert Sonata in F Major, for example, is music of real depth and beauty. The musical ideas, gentle and moving, are conveyed by intricate and texturally rich instrumentation. Listen to the Presto (tr.12) for hints of invention and thematic vigor worthy, too, of Vivaldi, or Albinoni. The melody and harmony are dignified, self-assured and inward-looking without taking themselves too seriously.
Of course it needs players open both to allowing Pez' music to speak for itself and untempted to intervene and offer a helping hand; and yet execute with impeccable technique the ideas of his rich world. Les Muffatti are more than up to this task. Their playing displays individuality of expression, and momentum and clarity in equal measure. In fact clarity is a quality particularly to the fore in this also very well-recorded disc. Every note counts, is equally audible and contributes to the way in which the music carries one along with it, although pausing often for reflection and admiration, in best High Baroque fashion.
The standard of playing is very high. The choices of instruments – clearly explained in the accompanying essay by Peter Van Heyghen – well thought-out and appropriate. There is a resulting balance of lightness yet depth to the strings in particular. This makes the music shine and endure on the ear. The pitch is a'=415. With music of such variety, the consistency conferred upon the enterprise by this approach is illuminating and the effect transparent. Even if there were multiple other CDs dedicated to Pez' music (there aren't: only an organ set by Laura Cerutti on Centaur 2700), the delicacy and soundness of Les Muffatti alone would make this disc highly recommendable. They do.
This is a CD to be carefully savored, then. Although the well-written liner notes are at great pains to acknowledge almost every conceivable influence on Pez (he was, after all, exposed to them throughout his life), it must be for his strengths in their own right (and they are indeed legion) that we appreciate a composer who, for many, will be a bit of a 'find'. Pez' music has the striking quality of being challenging in the senses both of confounding expectations (for a 'minor' figure) and of raising them (given his technical abilities and ever-unfolding creativity); and inviting the listener to pay extra careful attention, for example, to the way in which he places movements in contrast and achieves new and exciting sound palettes with very little apparent effort – the G minor Concerto grosso has all of these attributes, for example. Superb!
Copyright © 2007, Mark Sealey